New Local Parliamentary Constituencies Announced
---
Boundary Commission confirms plans for ward gains and losses



The boundaries of the proposed Tooting constituency

Final proposals for changes to the parliamentary constituency boundaries in Wandsworth have been revealed.

The Boundary Commission for England - the independent organisation responsible for reviewing paliamentary constituency boundaries - has provided the Government with its final recommendations.

In the SW18 postcode there will continue to be three constituencies, which have been announced as Battersea & Clapham, Tooting and Putney & Wandworth Town.

Nationwide, the shake-up of MPs' constituencies is being made to reduce the number of UK seats from 650 to 600, while the number of constituencies in London must reduce from 73 to 68. The changes are needed to make the number of electors in each constituency more equal and to comply with legal requirements.
The Tooting constituency, which is currently one of only six electorates in South London within the permitted electoral range, will retain all seven of its existing wards. Curently held by Rosena Allin Khan, Tooting will also gain Graveney ward from the existing Mitchum and Morden constituency.

Marsha de Cordova's Battersea seat is to be renamed Battersea & Clapham (see below) and will include all the existing Battersea wards. It will also gain the Lambeth borough ward of Thornton from the existing Streatham constituency to bring it into the permitted electoral range.



The new Battersea & Clapham constituency

A new Putney & Wandsworth Town constituency (see below) is to be formed by splitting Justine Greening's Putney, Roehampton & Southfields seat. The Roehampton and Putney Heath ward is to be moved to an expanded Wimbledon seat, while the wards around the centre of Wandsworth will remain in the new constituency.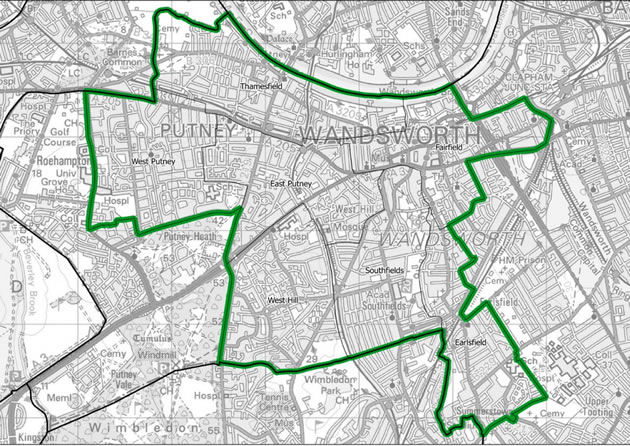 The new Putney & Wandsworth Town constituency