Battersea Power Station Unveils Its Glass Chimney Lift Experience
---
Offering unique 360 degree views from the top of the North West tower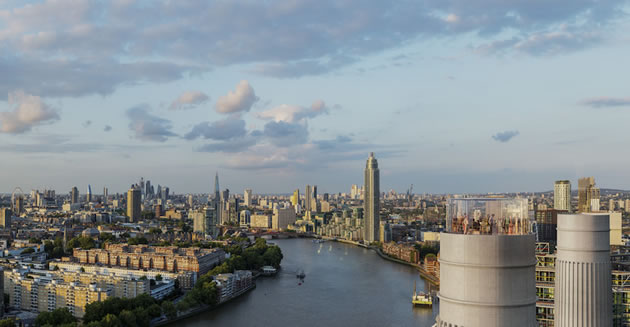 Battersea Power Station has unveiled plans for a major new London attraction - a glass elevator which will travel 109 metres to the top of one of the iconic chimneys.

The glass lift will offer visitors 360 degree views of the capital's skyline and is just one of three new attractions being developed for the site.
The Chimney Lift is one of three new attraction spaces being developed on the site. Once complete they will sit alongside shops, restaurants and office spaces within the Power Station when it opens to the public in 2021.
The Chimney Lift will provide visitors with the experience of travelling up the interior of the north-west chimney in a custom-built glass elevator which emerges at the 109 metres high summit as a viewing platform, offering 360° panoramic vistas across the capital and into the Home Counties.

The Venue will feature a series of core and connected spaces with the flexibility to host a wide variety of cultural events ranging from live music, product launches, fashion shows, conferences, dinners and other entertainment. The Event Box will be the main space and will hold up to 1,500 people

Control Room A Is pomising to be a rare example of a complete 1930s Art Deco interior and will overlooking the Power Station's Turbine Hall through a series of bay windows and balconies. It will have 250-person capacity and will provide a unique backdrop for a wide range of events either in conjunction with, or separately from, The Event Box. In the original building Control Room A contained the equipment necessary to monitor the electrical output of the Power Station when it was operational, and became famous by featuring in films such as The King's Speech and Monty Python.

The Battersea Power Station Development Company is working with a collection of heritage and emerging retail brands from the UK and across the globe to complement its vision for the 1930s and 1950s turbine halls. Apple has already pre-let 500,000 sq ft of office space for its new London Campus within the building, which will sit next door to business members club No18, which has pre-let 40,000 sq ft of office space.
Andrew Hilston, Head of Leasing at the Battersea Power Station Development Company, said, "On behalf of our Shareholders, we are very excited to announce a series of thrilling lifestyle, entertainment and attraction spaces, and to launch our search for commercial partners who share our vision for Battersea Power Station.
"These unique spaces are central to our plans that will make Battersea Power Station one of London's most exciting destinations. Having already engaged with a number of prospective partners, we are confident the market shares our enthusiasm for the new spaces, and we're looking forward to selecting partners that can deliver real vibrancy, animation and soul to the development."
October 31, 2018