The Ahmadiyya Muslim Elders Association are collecting at local tube stations
Members of the Southfields Mosque are contributing to this year's Poppy Appeal in an effort to raise half a million pounds for the Royal Bristish Legion. The Ahmadiyya Muslim Elders Association UK (AMEA), together with MPs, Mayors, Royal British Legion Representatives and a host of dignitaries successfully launched the campaign last Friday and Saturday at various venues around the UK, including Southfields.


This year, AMEA UK are raising funds by selling poppies door to door, through stalls at local supermarkets, poppy stalls at major venues including football stadiums, and through other charity and interfaith events.
As with previous years, the AMEA UK Poppy Appeal campaign is linked to its annual Charity Walk for Peace where hundreds of thousands of pounds are raised for UK charities every year. Last year, the AMEA UK Poppy Appeal raised an incredible £350,000 through hundreds of hours of fundraising.
His Holiness Hazrat Mirza Masroor Ahmad, the Caliph and Head of the Ahmadiyya Muslim Community, said, "Muslims are obliged to be loyal to the country in which they live. Honouring those who fought to defend and safeguard ones country is an important principle of Islam and in fact is an important principle of peace."
Mr. Zaheer Ahmed, AMEA UK Poppy Appeal Chairman, added, "AMEA UK are committed to serving humanity and are committed to fundraising efforts throughout the year for hundreds of UK based charities. One of the highlights of the year is the annual Poppy Appeal that not just AMEA UK, but all auxiliaries of the Ahmadiyya Muslim Community UK take an active part in at this time of year. It's a wonderful opportunity to help those who served their country so that we may live in peace and furthermore it is an opportunity to remember those who lost their lives during the World Wars."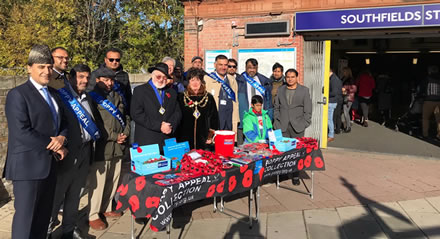 Deputy Mayor Cllr Jane Cooper with AMEA members at Southfields tube station
The members of the Ahmadiyya Muslim Elders Association UK South West London Region will be holding collections at Wimbledon, Southfields, East Putney and Putney Bridge Stations and request the public give generously to the cause.
November 1, 2018