"This was an appalling catalogue of failures by these men to run a safe and hygienic food business"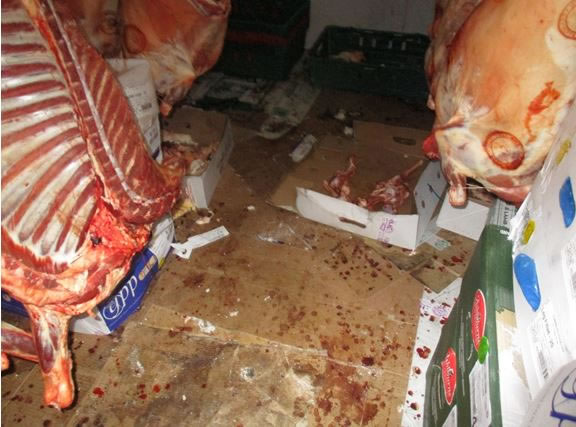 Two brothers who ran a filthy butcher's shop in Wandsworth have been made to pay nearly £4,600 in fines and court costs after being prosecuted by the council's food safety team.
Faisal Musakhel and Zabihullah Musakheil were taken to court after hygiene inspectors discovered a catalogue of food safety breaches at their business.
The inspectors were carrying out routine checks at the butcher's shop – Noor Halal Meat at 203 Upper Tooting Road – when they found widespread evidence of a mouse infestation along with filthy food preparation and storage areas.
They found numerous mouse droppings and evidence of mouse urine on food shelves and food packets. There were dead mice below a basket of noodles displayed on the floor in the shop and below the sink in the storeroom. Inspectors also found a heavy accumulation of dead flies on food preparation surfaces.
Blood stained cardboard was left on the floor of the fresh meat storage area, while a shelf in a freezer cabinet was also found encrusted with blood.
The wooden implement used to push meat through a mincing machine was covered in mouse droppings, as was the area where the meat was stored before being minced. Food packets had been gnawed and chewed by rodents and even copies of old pest control records had been partly eaten by mice.
Floor and wall tiles around food preparation areas were cracked and broken allowing bacteria to accumulate.
As a result, the inspectors ordered the shop to close its doors immediately in order to protect public health. Initially Faisal Musakhel refused to comply but eventually relented when told of the likely legal consequences of defying this instruction. The emergency closure order was later endorsed at a court hearing which ordered the butchers to remain closed until it had been thoroughly cleaned and the pest problem eradicated.
Once the premises had been made safe it was allowed to reopen, but a further unannounced spot-check a few weeks later found conditions had deteriorated again.


The shop was once again filthy and suffering from a mouse infestation (see above). Droppings were found on ready to eat foods such as Bombay Mix and black pepper, on food containers and on some fresh vegetables, while mouse urine was found on packets of rice and around bottles of mineral water. There were also mouse droppings in boxes used to store and carry fresh meat.
The floor in the rear storeroom was covered in blood and raw meat debris, as was the shop's mincing machine while numerous dead flies were found in food storage areas indicating not only hygiene problems but also a complete lack of adequate cleaning standards.
Foodstuffs and packaging contaminated by mouse droppings, mouse urine and flies can harbour harmful bacteria, such as E coli 0157, Salmonella, Campylobacter and Leptospira which can cause diarrhoea, fever, vomiting, abdominal cramps, skin rash and even death.
Both men pleaded guilty to seven offences under food hygiene and safety legislation when they appeared before Lavender Hill magistrates earlier this month.
Zabihullah Musakheil was fined £1,270 plus a £110 victim surcharge, and ordered to pay £1,000 towards the council's prosecution costs
Faisal Musakhel was fined £1,100 with a further £110 victim surcharge and told to pay £1,000 court costs.
Wandsworth's consumer protection spokesman Cllr Guy Senior said, "This was an appalling catalogue of failures by these men to run a safe and hygienic food business.
"Their cavalier attitude to cleaning and pest control led to serious breaches of the law and put members of the public at serious risk of harm.
"I would strongly urge other food shop proprietors and managers to take careful note of this case and take the proper steps to ensure their business is clean and safe.
"Businesses that flout the law in this way not only face a significant financial penalty but also the resulting bad publicity that these cases always bring. If food businesses want to avoid this fate they need to make sure they fulfil their legal and moral responsibilities towards their customers."
The council carries out regular inspections of all food businesses operating in the borough. Anyone concerned with health and hygiene standards at a Wandsworth restaurant or takeaway should call (020) 8871 6166 or email foodsafety@wandsworth.gov.uk