Collision took place on Queenstown Road near junction with Robertson Street
A man has been left in a critical condition in hospital after being hit by a tipper truck in Battersea this Friday evening (27 November).
The 67-year-old man was in a wheelchair when the collision took place just before 6pm on Queenstown Road at the junction Robertson Street, Battersea.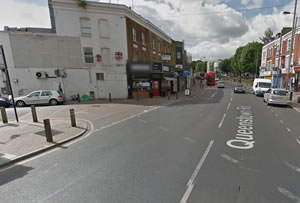 Junction of Queenstown Road and Robertson Street (Google Street View)
The victim's next of kin have been informed and there were no other injuries. The lorry stopped at the scene and the driver was not arrested.
Anyone with information or witnesses are asked to call the Serious Collision Investigation Unit based at Merton on 0208 543 5157 or the police non-emergency line on 101.