Nurse died in smash after 91mph chase from Wandsworth Prison

Craig Kearney with Acacia Smith. Picture: Facebook
A man has been jailed for killing his girlfriend in a high-speed police chase - reaching speeds of 91 mph - over Wandsworth Bridge and north up Fulham's Wandsworth Bridge Road after a drone was spotted being flown near Wandsworth prison.
Nursery nurse Acacia Smith, 25, from Acton, pictured above, died when Craig Kearney, of Southall, crashed his silver Peugeot in Wandsworth Bridge Road in the early hours of 9 August 2016.
The Old Bailey heard a drone and drugs were found in the car, suggesting that Kearney was trying to smuggle them in.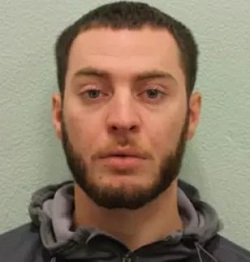 Kearney, 27, was jailed for eight years for causing death by dangerous driving. After pleading not guilty to causing death by dangerous driving on Tuesday, 2 January he changed his plea to guilty at the Old Bailey on Thursday, 1 February.
The court heard how on 9 August 2016 at approximately 3.05am, police were called to Groom Crescent near HMP Wandsworth following reports of a drone being flown near the prison grounds.
Officers arrived and a silver Peugeot was seen to leave the scene. Officers followed the vehicle and at 3.10am it collided with a lamp post on Wandsworth Bridge Road at the junction of Ashcombe Street. Acacia Smith was pronounced dead at the scene.
Kearney, who was driving the car, was taken to a west London hospital in a serious condition. He was discharged from hospital on 17 August 2016 and arrested by detectives from the Serious Collision Investigation Unit on suspicion of causing death by dangerous driving. He was charged on 2 November 2017.
The court was told the "extremely high speed" pursuit took place over a mile and had lasted just 69 seconds. Kearney's car had been travelling up to 91mph on the 30mph road and was left "totally crumpled".
Flight logs found inside the wrecked car showed the drone had taken off near the prison, prosecutor Nathan Rasiah said. He told the court cannabis wraps, "psychoactive" substances and small mobile phones were also discovered.
The Old Bailey heard that Kearney, had 15 previous convictions, including speeding and driving with no insurance. Cocaine and cannabis were also found in his system at the time.
Judge Richard Marks QC said Kearney, 27 had been driving at "grossly excessive speed" and had told a "bare-faced lie" when he originally claimed one of the pursuing police cars caused the crash.
He also disqualified him from driving for ten years, with the ban to start upon his release.
Mitigating, Alex Jamieson said Kearney wanted to apologise, saying he had "killed the woman he loves.
He added: "This is something he will have to bear for the rest of his life."
In court, Ms Smith's grandfather Lester described Acacia as a "strong, bubbly, amazing young lady".
He said: "It took Craig a long time to admit to his guilt but finally he's told the truth. Losing Acacia is something we will always have to live with and although it doesn't bring her back, we have gained some kind of justice in today's sentencing.
"Caysha had her whole life ahead of her, I watched her grown into the strong, amazing young lady that she became. She had dreams of getting her driving licence, running her own nursery business and going travelling.
"She showed so much love, lit up the room when she entered and you always knew Caysha was in the house. I miss her every day.
"Now my darling, my beautiful special granddaughter, you can rest in peace.
"I would like to pass on my thanks to the Judge, the CPS and the police for their thorough investigation as well as the witness services for their support at court today."
Detective Constable Sejal Unadkat, who led the investigation, said: "This was a tragic death caused by an individual who was driving without any thought for the safety of himself or those around him.
"During the incident Kearney was found to have been driving at speeds between 87 and 91mph in a residential road which subsequently had the worst possible consequences.
"Nothing will bring Ms Smith back but I hope the sentence brings some measure of comfort to her family."
February 2, 2018