Middle class cocaine use and police cuts blamed
The latest figures issued by the Metropolitan Police show that there has been a significant increase in the number of robberies in the Wandsworth area. One ward has seen this type of crime double over the last year and most have experienced high double-digit rises in the same period.
For the whole of Wandsworth, robberies have increased by 38.3% in the twelve months to July compared to a 22.6% across the whole of London. However some local wards have seen much larger increases with Wandsworth Common seeing the number of robberies up by 150%. In Fairfield this rise was 56.5%, Earlsfield 69.2% and Southfields 50%. Only West Hill saw a decrease in this type of crime.
There have also been double-digit rises in the number of burglaries in some local wards with Earlsfield seeing a 68.8% rise.

Local MP Rosena Allin Khan, who last month led a summit on local violent crime, has spoken out in the national press about the problem, "I find it infuriating that the police regularly don't have the time to investigate burgalries and they can't dedicate meaningful time to deal with some serious crimes. Our police are now used as a reactive force.

"Don't just listen to politicians on this. Several police chiefs have spoken out about how continual cuts are affecting them."
For the whole of London, crime has risen by 3.9% in the year to July and in Wandsworth this rise has been 4.4% There have also been big rises in burglary (12.6%), robbery and violence against the person (11%) in the borough. Violent crime in Wandsworth is at the highest level for around a decade.

London Mayor Sadiq Khan, who is a Wandsworth resident, spoke this weekend about tackling serious crime, "City Hall and the Met Police are taking action to tackle the scourge of violent crime in London... over 1900 weapons sweeps removed over 250 knives, 200 offensive weapons and 27 firearms from our streets since April."
Change in Crime (%) in Year to July 2018
Area/Ward
Overall
Robbery
Violence against
the person
Burglary
Wandsworth Borough

4.4

38.3

11.0

12.6

Fairfield

4.2

56.5

17.2

21.1

West Hill

-6.6

-11.8

-0.7

-27.2

Southfields

9.7

50.0

15.7

12.1

Wandsworth Common

12.1

150.0

12.4

32.7

Earlsfield

-1.4

69.2

-3.7

68.8

East Putney

-0.3

25.0

2.1

-9.4
Many people in the area believe there is a correlation between rising levels of crime and falling police numbers combined with the closure of the local police station. However, senior police officers and politicians have recently blamed increased middle class drug use for fuelling other types of crime.
The latest crime survey shows that cocaine use is at a decade high and was up by 15% last year with an estimated 875,000 people using it last year. Local police officers have suggested they are aware of widespread use in the Wandsworth area.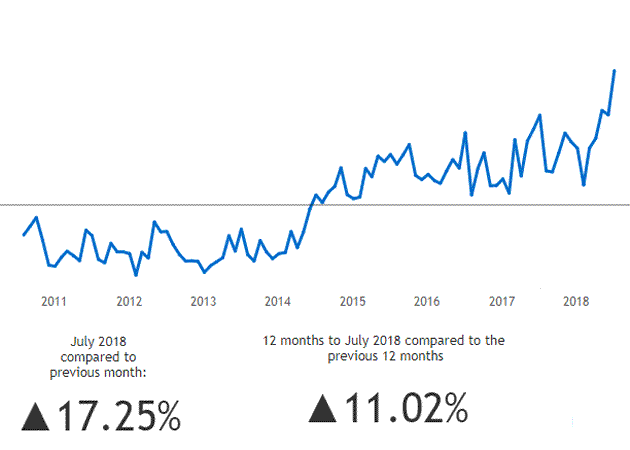 Wandsworth Borough - violence against the person offences. Source: Metropolitan Police
The Metropolitan police commissioner Cressida Dick said, "There is this challenge that there are a whole group of middle-class – or whatever you want to call them – people who will sit round … happily think about global warming and fair trade, and environmental protection and all sorts of things, organic food, but think there is no harm in taking a bit of cocaine. Well, there is; there's misery throughout the supply chain."
The National Crime Agency has said that the surge in violent crime in London is in part down to the activity of drugs gangs and it is believed that other types of offences like burglary and robbery are often linked to the operations of these gangs. David Lammy, MP for Tottenham, recently made a direct link between the booming middle class cocaine demand and drug related killings in London.


September 4, 2018