Man From Wandsworth Jailed For Drugs Offences
---
Illegal substances were being produced at his flat in Nine Elms Lane
A group of three men - including a 23-year-old from Nine Elms - who manufactured and sold counterfeit drugs, have been sentenced to a total of more than 14 years in jail.




Ahmed Karim Mirza, pictured above, of Nine Elms Lane, Mohammed Khaleghi of Dorman Way NW8 and Adam Debbah Capela of Tolgate Gardens, NW6, all pleaded guilty to conspiracy to supply Class A drugs, namely cocaine and MDMA; conspiracy to supply Class B, namely cannabis skunk and ketamine; and possession of a controlled drug, namely Alprazolam.

Khaleghi and Capela also pleaded guilty to conspiracy to supply and knowingly produce the Class C drug, Etizolam.

Mirza was sentenced to five-and-a-half years' imprisonment, Khaleghi to four years and nine months and Capela to four years and three months.

The court heard that an investigation was launched by police after information was received about the activities of Mirza.

This led to the execution of a search warrant in April at Mirza's address on Nine Elms Lane. Inside his flat, officers found a quantity of equipment being used for the manufacture of counterfeit 'Xanax'.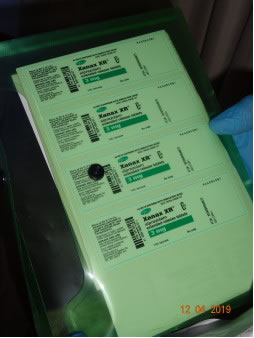 Items included a pill pressing machinery, 1.5kilos of powder and approximately 15,000 counterfeit tablets. Also discovered inside the address was a quantity of drugs including cocaine and MDMA, along with £8,000 in cash. Mirza, who was inside the flat, was arrested.

The wider investigation, including the analysis of phones and CCTV, linked both Khaleghi and Capela to the drugs operation. Both were arrested later that day as they attempted to enter the building on Nine Elms Lane.

Detectives established that the group had been using the dark web to take orders and distribute their fake pills to destinations as far afield as the United States, Australia and South America and receiving payment in Bitcoin. As many as 5,000 pills were being shipped on a daily basis giving an indication of the scale of the operation.

Detective Constable Liam Herlihy, of the Central East Crime Squad, led the investigation. He said: "Producing counterfeit medication is illegal and it is also extremely dangerous to unsuspecting users who may inadvertently come into contact with it.

"When the pills we seized were tested, not one of them contained the correct levels of the relevant drugs with wild fluctuations in the strength of the tablets. There could have been a serious risk to the health of someone taking these.

"Mirza, Khaleghi and Capela showed a blatant disregard for the welfare of those who may have ended up taking the fake pharmaceuticals they had created, instead being driven by greed and profit. While their sophisticated operation to distribute counterfeit pills was global, their supply of Class A and B drugs was local to the London area but equally as damaging.

"I am pleased that their operation has been closed down and they have been forced to face the consequences of their actions."

A spokesman for Pfizer, manufacturers of Xanax, said: "Counterfeits are difficult to distinguish from the real medicines and are extremely dangerous by their very nature given that they are not produced under regulated manufacturing conditions to ensure their safety.

"We have found dangerous ingredients such as boric acid, heavy metals and floor polish in counterfeit medicines. Pfizer has always been at the forefront in the fight against counterfeits and the criminals behind them. We will continue to work side by side with all law enforcement agencies around the world to help detect, disrupt and deter counterfeit medicines trade."