With a 30% surge in membership in Wandsworth since late May
The local party has seen a 30% surge in membership since late May when the Liberal Democrats won the European elections in Wandsworth, with 37% (36,012 votes) – more than double the Labour vote (15,487) and four times the Conservative vote (9,395).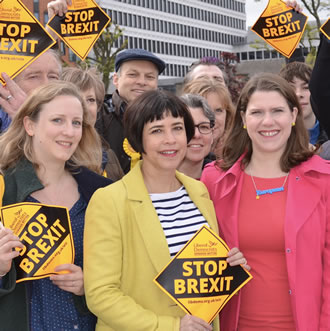 Sue Wixley (centre) with Jo Swinson
Wandsworth Liberal Democrats now have a record number of members (1,340) and the party welcomed an additional 300+ new joiners in the last few months. Nationally, the party's membership now tops 115,000. Each of the three constituencies in the Wandsworth borough party – Battersea, Putney and Tooting – has benefited from this surge.
In Putney, the Lib Dems' Prospective Parliamentary Candidate, Sue Wixley said: "I couldn't be more excited to welcome our new members. More and more Remainers are becoming Lib Dem voters, supporters and members because they realise that Brexit is simply not viable. Voters in Putney are having sleepless nights about the political chaos led by Boris Johnson in No. 10 and supported by Jeremy Corbyn. Like me, our new members feel that the Liberal Democrats are the only party that represents their hopes and values."
Sue Wixley has lived with her husband in Southfields for more than a decade and stood in the ward for Wandsworth Council elections last year. Sue has been a director of several organisations working on healthcare and social issues and has served on the board of several others. She co-founded and led the South African Campaign Against Landmines, part of the global campaign that was awarded the 1997 Nobel Peace Prize.
Reactions on social media show spikes in member signs-ups are often prompted by external events, such as Jo Swinson's recent election as the party's new leader and Boris Johnson arrival in No. 10 last month. The Lib Dems' by-election victory Brecon & Radnorshire, which saw Jane Dodds beat Conservative incumbent Chris Davies, also spurred another increase in new members.
Recent polls have suggested that the Liberal Democrats could win Putney from the Conservatives at the next General Election. Meanwhile polls show that Labour voters are growing increasingly frustrated with Corbyn's fence-sitting on Brexit and are dismayed by his handling of anti-semitic behaviour in his party.