Nine Elms Lane and Battersea Park Road to be completely redesigned
An artist's impression showing the view of Nine Elms Lane towards St George Wharf – subject to planning permission
A consultation has begun on plans by Transport for London (TfL) to completely redesign a busy stretch of road in Wandsworth borough.
They say that their proposals will support more walking, cycling and greater use of public transport as well as reducing traffic on Nine Elms Lane and Battersea Park Road. The changes, which would be funded by money from developers, will include 2km of what TfL are describing as segregated cycle routes and a number of signalised pedestrian crossings. There would also be an extension of existing bus lanes and wider pavements. The would affect stretch of road from the Vauxhall Gyratory to Macduff Road and would connect to Cycle Superhighway 8 (CS8).
There is a huge amount of development already underway in the area and will be continuing in the coming years, including over 40 major developments with 20,000 new residential and office units, two new town centres at Battersea Power Station and Vauxhall and two new London Underground stations on a new Northern Line Extension, at Nine Elms and Battersea. A small scale, interim scheme is taking place during summer 2017 which looks to increase safety in the area.
Leon Daniels, Managing Director of Surface Transport at TfL, said: "We have been working with the council and developers on temporary measures to ensure the safety of everyone while construction takes place and now we are setting out our proposals for longer-term improvements in the area."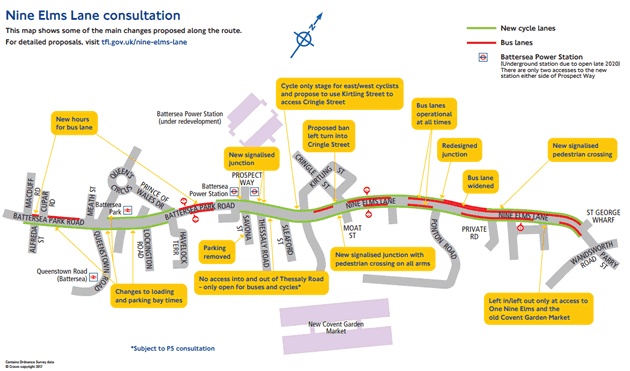 A larger version of the above map (PDF).

Will Norman, London's Walking and Cycling Commissioner, said: "We have ambitious plans to make walking and cycling safer and easier across London, and our proposed improvements at Nine Elms will improve the lives of thousands of people based in the area over the coming years. With a new substantially segregated cycle route, newly designed junctions and transformed public spaces, the plans will ensure that encouraging walking, cycling and public transport is at the heart of this major project."
There has been a lukewarm response to the proposals from the London Cycling Campaign. A post on their web site states, "There even seems to be confusion from those who should know better what the scheme actually includes. Will Norman, the Walking & Cycling Commissioner says proposals are 'substantially segregated'. And TfL's consultation materials talk about stepped tracks. That appears to be hype, as there is little actual separation proposed along the route when the materials are scrutinised."
It goes onto say that substantial changes to the proposals are needed if it is to attract the support of the local cycling campaign group.
In total, more than £1bn of new transport and social infrastructure is being delivered across Nine Elms on the South Bank as it transforms from a largely light industrial area into a more residential area.

Subject to the outcome of this consultation, construction permanent improvements would begin in 2020.

The plans, which are open for consultation until Sunday 20 August. To respond to the consultation go to tfl.gov.uk/nine-elms-lane.

July 12, 2017