Schools in Wandsworth generally beating national average
The official GCSE results released recently by the Department of Education show a strong performance from pupils in the area's schools.
Wandsworth borough as a whole saw better than average performances in all categories with 29.3% of candidates achieving the English Baccalaureate compared to 24.3% for state schools nationally.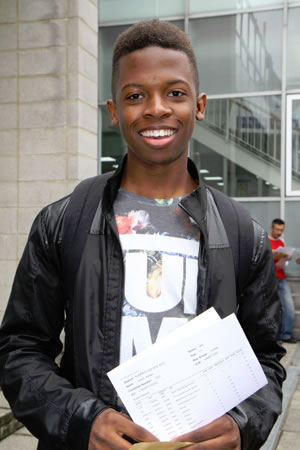 Adam Kona from Ernest Bevin College got 9 A*s and 3 A grades
The number achieving 5+ A*-C GCSEs (or equivalent) including English and maths GCSEs was above the average for the third year running.
At the time the unofficial results were released the council's education spokesman Councillor Kathy Tracey said;
"Once again our schools have performed excellently and I would like to thank staff, students and parents for all their hard work."
school name
% achieving 5+ A*-C GCSEs (or equivalent) including English and maths GCSEs
% achieving the English Baccalaureate
% achieving grades A*-C in English and maths GCSEs
English
Maths
2012
2013
2014
2015
England - all schools

NA

NA

59.4%

59.2%

53.4%

53.8%

22.9%

55.8%

England - state funded schools only

71.1%

66.9%

58.8%

60.6%

56.6%

57.1%

24.3%

59.2%

Wandsworth

75.3%

67.4%

58.3%

61.3%

59.1%

58.2%

29.3%

60.6%

Ark Putney Academy

78%

88%

62%

58%

62%

58%

29%

58%

Ashcroft Technology Academy

73%

64%

68%

67%

65%

58%

34%

62%

Emanuel School

NP

NP

96%

99%

99%

98%

0%

100%

Ernest Bevin College

81%

69%

60%

56%

55%

56%

29%

58%

Graveney School

94%

84%

79%

75%

86%

84%

53%

88%

Hall School Wimbledon

NP

NP

63%

69%

75%

85%

33%

85%

Saint Cecilia's, Wandsworth Church of England School

82%

70%

64%

66%

70%

67%

32%

69%

Saint John Bosco College

72%

56%

45%

55%

47%

41%

14%

45%

Southfields Academy

58%

65%

53%

62%

45%

43%

2%

46%

Selected schools from other boroughs
The Harrodian School

NP

NP

95%

99%

0%

97%

71%

97%

Lady Margaret School

77%

78%

72%

81%

75%

73%

50%

74%

The London Oratory School

88%

86%

92%

87%

86%

87%

71%

88%
February 2, 2016