Seventeen storey tower on Homebase site given planning permission

CGI images of what the building might look like
Sadiq Khan, the Mayor of London, has used his power to 'call in' decisions by borough authorities to override Wandsworth Council's refusal to give planning permission for a major housing development on Swandon Way. The development will comprise a number of tower blocks the highest of which will be seventeen storeys. The decision has led to an angry reaction from Council leader Ravi Govindia who said the Mayor had let local residents down.
Councillors refused permission for the development of the site of the Homebase store in Swandon Way in April this year, due to the height and scale of the development, and its proximity to a nearby conversation area. The decision was made against the advice of the Council's own planning department.
The Mayor has overturned this decision and stipulated that the proportion of affordable housing in the scheme should be increased from 23% to 35%. This means that 136 of 136 of the 385 homes in the approved plans will be classed as affordable. The delivery of these affordable units will also be accelerated with over half being built in the first phase. The Mayor has agreed a review mechanism, which could see affordable housing increase to as much as 50 per cent if an agreed level of progress is not made on the development within two years.
The developer will contribute £2.5 million towards a new entrance to nearby Wandsworth Town station. The plans also include cycle parking, retail and commercial units, and improvements to public spaces.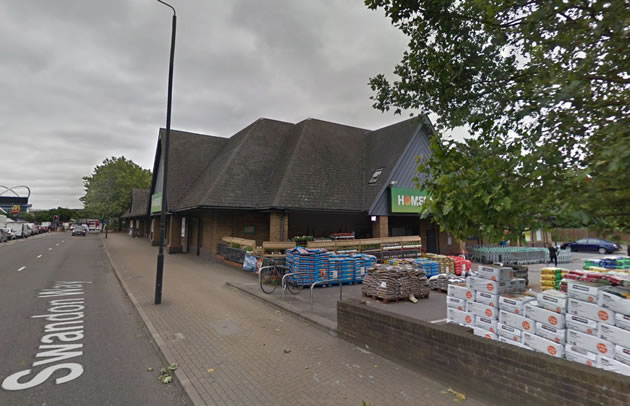 Homebase on Swandon Way. Google Street View
The Mayor of London, Sadiq Khan, said: "I've made it clear I am committed to increasing the delivery of genuinely affordable housing in London, especially given the pitiful legacy I inherited, and I will use my full range of planning powers to achieve this.
"This development offers a significant number of high-quality homes in a location which offers great transport links and local amenities. We have confirmed more than half of the affordable homes will be delivered up front in the first stage of construction.
"I'm also really pleased we have secured a review mechanism which could increase the level of affordable housing further – and that people who live and work in the area will benefit from a significant upgrade to Wandsworth Town Station."
The Mayor has so far called in four developments each time with the aim of increasing the number of affordable units above his target of 35%
The leader of Wandsworth Council has criticised the Mayor of London for overturning a local planning decision and permitting an unwanted and unpopular development at Wandsworth Town.
On two separate occasions Wandsworth's planning committee unanimously rejected applications to develop on the Homebase site at Swandon Way.

Wandsworth Council leader, councillor Ravi Govindia, said, "This sets an extremely dangerous precedent when the Mayor of London can ride roughshod over the views of Wandsworth residents and the decision a local planning council's planning committee – this is bad news for all local councils. Planning committees across London will afraid, very afraid - the message from City Hall is that nothing in planning matters other than how much housing is approved - never mind the height, design or impact on neighbourhoods."
"The application was rightly turned down by Wandsworth - twice - because it was felt that this development was in the wrong location and was too high and too bulky. This was a view shared by hundreds of residents and the local amenity society.
"The Mayor's decision completely undermines our ability to decide what is appropriate for our communities and ignores the views of local people."
He defended Wandsworth Council's record on affordable housing and pointed out that the Mayor himself had cited them as an excellent example of Council housebuilding but added a balance needed to be struck between creating new homes and respecting the historic townscape.
Shortly after becoming Mayor, Sadiq recruited a team of planning experts to scrutinise developers' use of 'viability studies' to cut affordable housing and earlier this year, and published his Affordable Housing and Viability Supplementary Planning Guidance (SPG), to aid the progress of developments with least 35 per cent affordable housing. The Swandon Way development now includes 35 per cent affordable housing (both by unit numbers and by habitable room) meaning it meets the Mayor's threshold for following the 'Fast Track Route' in his Affordable Housing and Viability Supplementary Planning Guidance (SPG).
We have asked Wandsworth Council for a comment on the decision.

October 18, 2017