Charity run by wealthy philanthropist hands out medals, certificates and cheques



Megan Davis of South Thames College
Prestigious Jack Petchey Foundation Achievement Awards have been presented to 72 local young people.
An event held recently at the Wandsworth Civic Suite honoured award winners aged 11-25 who received medallions to go with a framed certificate and a cheque for £250 each.
The Achievement Awards are a peer recognition scheme including grass roots youth clubs, youth organisations, secondary schools and uniformed organisations throughout London and Essex. Nominations are made by young people as well as teachers, parents and supporting adults. The young award winners choose how best to spend their award money to the benefit of their club or school.
This year's winners included Naqibullah Azizi, aged 16, who attends the Ernest Bevin College. Naqibullah is a member of the Wandsworth Youth Council and is committed to representing young people and championing the voice of his peers, never missing Youth Council meetings which run every Friday. Naqi has also represented the Combined Cadet Force for the last two years as a Senior Cadet and is a loyal member of the contingent, helping to train new cadets. Since joining the sixth form at Ernest Bevin, he has given up his free periods between lessons to support Year 7 students in their studies.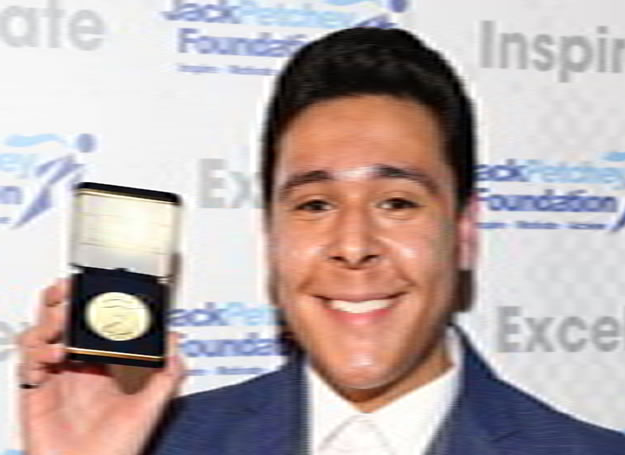 Naqibullah Aziz from Ernest Bevin College
Naqibullah's teachers said: "He is a true role model for all students in the school and uses his time and energy to ensure that in school, as in his community, he strives to make a positive difference." Naqi has decided to spend his £250 Jack Petchey Achievement Award grant on a variey sixth form equipment to benefit his peers.
17-year-old Megan Davis attends South Thames College and was honoured for her volunteering work and fundraising.
Megan has worked as a student volunteer with the college Enrichment team, always willing to assist with planning and organising activities for her peers. Her work has included organising many themed weekends and events including fundraising for Breast Cancer Awareness, Children In Need and Wear Green for Grenfell Day. She has been featured in South Thames College newsletters and their website for her excellent extra-curricular volunteering and also for her dedication to her studies.
Megan spent her £250 Jack Petchey Achievement Award grant on a trampolining and restaurant trip for herself and her classmates last summer.
Four adults were also celebrated at the awards ceremony with Leader Awards for demonstrating, in an outstanding way, an ability to motivate young people. They received a medallion and a framed certificate.
Philanthropist Sir Jack Petchey CBE set up his Foundation in the year 2000 to encourage young people in London and Essex to work hard and reach their full potential. He believes each and every young person should be given the chance to achieve: "If you think you can, you can!"
Sir Jack, who is thought to be worth over £500 million, was born into a working class family in the East End in 1925, left school at 13 and then joined the Navy in 1943. After leaving the Navy he applied for management training but was told he would never make it as a businessman.
Instead of giving up, Sir Jack used the £39 he was given on exiting the Navy to buy a second hand car and started a taxi business. He persevered and went on to build a multi-million-pound empire.
The Jack Petchey Foundation also funds other programmes that celebrate positive contributions of young people in society. Jack Petchey's "Speak Out" Challenge is the world's largest public speaking competition for young people.
Youth organisations and schools in Wandsworth have received £881,569 from the Jack Petchey Foundation since funding started in 2007.

March 11, 2020