World Heart Beat nominated for Royal Philharmonic Society prize
Wandsworth-based World Heart Beat Music Academy has been shortlisted for the Royal Philharmonic Society Music Awards.
World Heart Beat is a specialist world music academy for young people in London, which not only brings and teaches music from all over the world but also provides disadvantaged youth with instruments and tuition.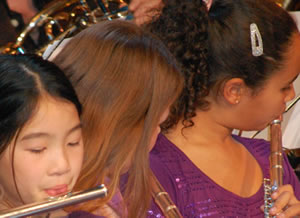 The annual RPS Music Awards, presented in association with BBC Radio 3, are the highest recognition for live classical music in the UK. Awards, in thirteen categories, are decided by independent panels consisting of some of the music industry's most distinguished practitioners. The awards honour musicians, composers, writers, broadcasters and inspirational arts organisations. The list of previous winners reads like a Who's Who of classical music. This year's RPS Music Awards celebrate outstanding achievement in 2016.
RPS Music Award winners will be announced at the awards dinner on Tuesday 9 May.
The World Heart Beat Academy will be holding an Open Day on Saturday 29 April from 1:30-3:30pm. All children ages 5-12 are welcome to join for a free taster session for a range of instruments including Flute, Violin, Clarinet, Saxophone, Trumpet, Tabla, and Guitar and a few live music performances from the students.
The grand launch of the World Heart Beat Chamber Orchestra will be on 14 May from 7-8pm at the Academy in Wandsworth. The programme includes some of the most celebrated classical music and rarely performed film scores.


April 10, 2017