"Knife crime is a serious problem in London so it's absolutely vital that shops comply"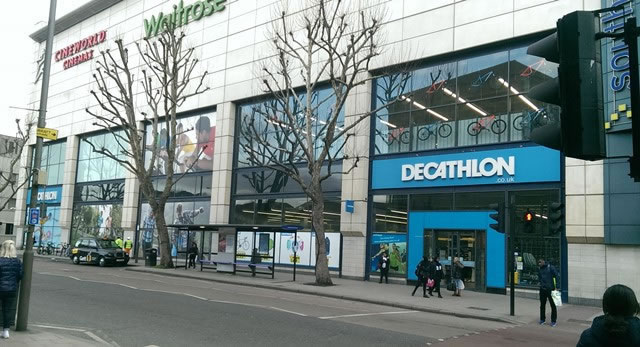 A large sports and outdoor equipment store in Wandsworth has been fined £20,000 after being caught selling a knife to a teenager.
As part of an undercover trading standards operation to make sure local shops were complying with laws banning the sale of knives and blades to young people, a 16-year-old was used to carry out test purchases in shops across the borough.
Most shopkeepers and sale assistants refused to let the youngster buy the knife, but in the Decathlon store in the Southside shopping centre she was able to purchase a foldable lock-knife with an 8cm stainless steel blade – described on the company's website as "very sharp and durable" as well as "simple, strong and cuts very well".
Days before the purchase was made, a trading stands officer had visited the same branch to remind staff there that it was illegal to sell knives to anyone under 18.
In the process of buying the knife the youngster spoke to two different sales assistants, neither of whom questioned her about her age or challenged her about the purchase.
When trading standards officers later visited the store to question the staff involved, the sales assistant who processed the transaction stated he had not received training about knife sales, while the store manager, who is responsible for ensuring staff are properly trained, had himself not received any training about the law on knife sales to under-18s.
As a consequence the council prosecuted Decathlon (UK) Ltd at Lavender Hill Magistrates Court earlier this month. After pleading guilty the company was fined £20,000 and ordered to pay the council's legal costs of £1,868.
Paul Browne, Wandsworth's Trading Standards and Licensing Manager said, "Knife crime is a serious problem in London so it's absolutely vital that shops comply with the law and do everything they can to prevent knives and blades getting into the wrong hands.
"This was a case of very poor practice by staff at this Decathlon branch and it could have had tragic consequences.
"Decathlon has around 30 stores in the UK, so it's a large scale and popular retailer, yet their procedures were totally inadequate to prevent the sale of a potentially lethal weapon to a young person. This failure has resulted in a steep learning curve for the business, whose procedures have now been drastically overhauled to prevent any further illegal knife sales in the future."

March 29, 2018