An update on speeding motorists, Granville Road Traffic ban, Wimbledon Park Road paving and more


East Putney 'Let's Talk'
East Putney residents can meet our Councillors and town hall managers, give their views on council services and ask questions at the next East Putney 'Let's Talk' session, on Thursday 6 December from 7pm at St Stephen's Church, Manfred Road, SW15 2RS. If you can't be there, you can still send in a question via this online form.
Speeding motorists


Cllr Sarah Binder
Your Councillors are concerned that some motorists are still flouting the 20mph speed limit on residential roads. Cllr Sarah Binder said: "It is essential for road safety that motorists stick to the speed limit. We have organised Community Road Watch sessions with local police to clamp down on wayward motorists, and the Council has now paid for two more speed guns to help the police in areas where residents have concerns. All this will help, but we're now asking the Council to explore further initiatives so we can be tougher on motorists who ignore the 20mph limit".
Childrens' Services improving
The watchdog OFSTED has made several positive comments about Wandsworth's Children's Services following its most recent inspection. OFSTED reported that "significant financial investment and an understanding by senior leaders" had underpinned improvements. It said: "Senior leaders have worked diligently to strengthen the quality of children's services", achieving "a good range of accessible services to improve outcomes for children and their families."

Cllr George Crivelli is Co-Chairman of Wandsworth's Education and Children's Services Committee. He said: "We're moving in the right direction. Nationally, some 270 children are now taken into care or placed on a child protection plan every day, which poses tremendous challenges for council children's services nationwide. But we have been working extremely hard and are determined to improve children's services yet further. Initiatives like our new THRIVE strategy set out our approach to early help. By intervening early, we can nip issues in the bud with extra help and support to families before problems escalate. The support and protection of our borough's children is vital and we will keep working hard on it."

You can find out more about THRIVE here, and also at the THRIVE Online website.
Trial traffic ban to ease rat-running on Granville Road
The Council is to run a trial scheme to curb rat-running in and around Granville Road, in response to residents' concerns about the volume of traffic on residential roads. A detailed study found many motorists leaving the A3 at Tibbet's Corner to avoid delays on West Hill by cutting through residential streets. Granville Road had the highest volume of this traffic, with some 3600 vehicle movements from 7am to 7pm on a normal weekday. Very little of this was local traffic; drivers from further away were cutting through the borough to other destinations.
For at least 6 months starting early next year, traffic (apart from buses and cycles) will be banned from Withycombe Road and Princes Way from 7am-10am, the busiest time for rat-runners, and a stretch of Windlesham Grove will become one-way westbound. The 6-month trial can be extended up to 18 months if engineers feel more traffic analysis is needed.
Cllr Sarah Binder said: "Granville Road residents are amongst the worst affected by the rat-running, along with residents in several streets in neighbouring West Hill ward. We will monitor traffic flows during the trial period to make sure it's working, and if it is effective, we will make the changes permanent."
Kersfield Estate new homes proposal
Consultation has continued with Kersfield Estate residents about the possibility of building 37 new homes there by extending existing blocks. The proposal is part of a major Council drive to build 1000 more homes for Wandsworth residents and workers on council land, with a majority of the homes for low-cost rent or shared-ownership with the Council.
Cllr George Crivelli said: "We have now held a drop in session at Holy Trinity Church Hall, where residents could see the proposals and give feedback in advance of a planning application being submitted. Our aim is to prioritise local needs for affordable housing. Kersfield Estate can lead the way in helping us to build more much-needed local homes, and we look forward to hearing residents' comments and ideas."
Residents can find out more or give feedback on the proposal by emailing: developmentteam@richmondandwandsworth.gov.uk
Mosque helps with Poppy Appeal


The Ahmadiyya community, whose main Mosque is in East Putney's Gressenhall Road, has joined in the annual Poppy Appeal in aid of the Royal British Legion. The Ahmadiyya Muslim Elders Association has organised hundreds of volunteers nationwide to sell poppies at local stations and supermarkets, including in Putney, as part of this year's borough-wide effort. They aim to contribute £500,000 to the Poppy Appeal.
New paving
Tideswell Road and Wimbledon Park Road in East Putney are amongst 40 residential streets getting a £2 million facelift with new paving or resurfacing in the months up to April next year.
Cllr Ravi Govindia said: "By prudently managing taxpayers' money, we can invest in keeping our roads and pavements looking good and making walking, cycling and driving safer for residents. Since April 2012, we have invested some £15 million in fixing over 35,000 potholes and keeping more than 230 miles of road surface in good repair."
Residents can report potholes or broken pavements via www.wandsworth.gov.uk/potholes or by emailing onstreetservices@wandsworth.gov.uk.

Ravi shows Minister need for second station entrance


East Putney Cllr and Council Leader Ravi Govindia has met Transport Secretary Chris Grayling at Putney Station with our MP, Justine Greening, to press home the benefits of a second entrance to the platforms from a footbridge on Oxford Road.

Ravi said: "It was good to meet the Minister in person and for him to see the situation for himself. I told him our argument was absolutely compelling, and he listened carefully. We have long campaigned for a second entrance, and I now feel more optimistic that there could be some light at the end of this tunnel. A second entrance would give residents much better access to the station, would reduce overcrowding at the High Street entrance and would shorten journeys by drastically cutting the walk between the station and East Putney tube. The Minister asked for more information, which we will give him."

The Council has offered to part-fund a second entrance from the Community Infrastructure Levy, which requires developers to pay into local infrastructure projects.
Putney High School
The Council Planning Committee has granted Putney High School permission to demolish a science block and build a new four-storey teaching centre for music, science and drama.
Cllr Sarah Binder said: "Importantly, the application did not seek to increase pupil numbers, but to enhance teaching facilities. The Planning Committee imposed several conditions to ensure that the new building does not impact negatively on the neighbouring area, and the school is bringing in measures to minimise the impact construction may have on neighbouring streets. Meanwhile the Neighbourhood Working Group made up of the school and local residents continues, and the school is working to improve its role in managing local traffic."
Ravi welcomes Budget boost for High Streets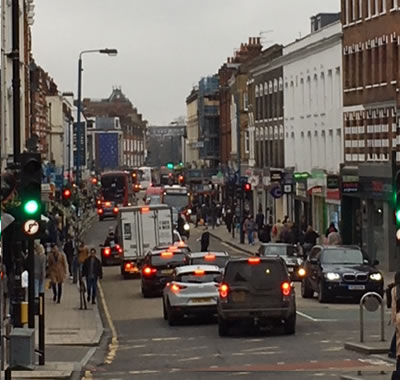 Cllr Ravi Govindia has welcomed Chancellor Philip Hammond's Budget announcement of a £1.5 billion boost for town centres and high streets. The aim is to revitalise high streets with a £675m Future High Streets Fund and to give more support to smaller businesses that will cut their business rates by a third for two years from April.

Ravi said: "We welcome the extra support to shops and small businesses and hope to receive our share, so that we can do more to help our local businesses flourish. More successful shops and businesses mean more local employment opportunities, and more choice for our residents. Town centres like Putney High Street are at the heart of our communities and are key to making Wandsworth such a special and prosperous borough."

The Council already supports local businesses through Positively Putney, our local Business Improvement District; through community events and fairs; by protecting historic pubs from redevelopment; and through Wandsworth Enterprise Month, an annual programme of events, support and advice for entrepreneurs.

The Council also has extensive plans to re-vamp Putney High Street to make it more attractive, pedestrian-friendly and less polluted, and to stimulate and promote local shopping. There is more about the High Street plans here. You can also find out more about how Wandsworth supports businesses here.
Small Business Saturday
As part of its programme of business support, the Council and Positively Putney will again be running the annual Small Business Saturday on 1 December. Businesses owners are encouraged to create an offer or special deal on the day, which will be promoted via social media, poster sites and Council channels.
Cllr Sarah Binder said: "It would be really good if residents can come out to support local businesses on Small Business Saturday, by shopping, eating or having a drink at small business stands or in smaller local shops, pubs and restaurants. Keeping it local would be a great start to the festive season!"
'Green wall' proposal for cinema


Artist impression of eth proposed green wall

Meanwhile almost 800 local residents have signed a petition to create a 'green wall' on the façade of Putney Odeon cinema on the High Street, to help in the Council's work to improve the High Street and to combat air pollution. The petition has now been handed in and the Council has been negotiating with Odeon about implementing the scheme. So far the project is progressing well and details are being finalised.
Clearing up High Street clutter
Also on the High Street, there have been complaints from residents about the proliferation of advertising boards and tables on pavements, which can cause obstructions, especially for people with mobility problems.
Cllr George Crivelli said: "I have raised this 'clutter' issue with the Council enforcement team who check to ensure that advertising boards are within the regulations. However, there are also tables on pavements which are considerably restricting the amount of pavement pedestrians can use. The Council is now considering several options to help with enforcement so that boundaries for shops and cafes are clearer. Hopefully this will allow more space for pedestrians and shoppers."
Charlwood / Upper Richmond Road smoking bin
Local residents also contacted George about the level of debris caused by smokers congregating from local shops and offices at the open area across from Estate House in East Putney, at the corner of Charlwood Road and Upper Richmond Road. George has now arranged for a new smoking bin to be installed there.
George said: "The new bin will be in place shortly, and hopefully will keep the area around there cleaner".

Cllrs Ravi Govindia CBE, George Crivelli & Sarah Binder

November 15, 2018