The East Putney Councillors' Spring Bulletin
---
An update from your local ward Councillors and candidate


Take our Councillors' survey!
We're always keen to hear residents' views and get feedback on the Council's work. One way to send feedback easily is through our short online survey. You can let us know what you think here.
£13 million for Wandsworth council tax payers


The Government has given Wandsworth Council an award of nearly £13 million for creating a record number of new homes last year. The payment, called the New Homes Bonus, rewards councils for creating homes. More than 2,000 homes were created in Wandsworth in the year to October 2017, including council homes, housing association homes and formerly empty homes brought back into use.

East Putney Cllr and Council Leader Ravi Govindia is committed to spending this money on frontline services for residents, and on helping to keep council tax low. Click to see Ravi's short video message about this welcome benefit to council tax payers.

Helping care leavers
Wandsworth Council is now exempting young people leaving care from having to pay council tax, as they move into living independently as young adults.
East Putney Cllr George Crivelli is on the Children's Services Committee and strongly supports the policy. George said: "Young people leaving care rarely have the family support that many other young people can fall back on, and it can be tough starting out on your own. For young care leavers, we as the Council are the 'Corporate Parent', and we want to help these young people through a demanding transition. Paying their council tax until they are 21 is part of our support package that also includes advice on managing their money as they take on more responsibilities."

The Children's Society supported the move, saying: "We're delighted that Wandsworth Council is introducing this exemption, which will make life easier for many young people moving into independent living."

George attended the Corporate Parenting panel in March at the Town Hall, and heard members of the Council's CLICK (Children Looked After in Care) team discuss their work in helping care leavers.
George added: "Our team's approach has been to work with our care leavers, asking them how they believe we can support them into adult life. So care leavers themselves are helping with our pack that gives clear information about health, relationships, education, training, accommodation and work. We are also strengthening some other services, including more mental health support, better access to apprenticeships, and accommodation for young people with complex needs."
More schools funding
The Council is investing £17 million in local schools, including cash injections to provide more places at some of the borough's most popular schools. East Putney candidate Sarah Binder said: "98% cent of Wandsworth's primary and secondary schools are rated Good or Outstanding by the education standards watchdog OFSTED. This means our schools are popular with local parents! So even with Oasis Academy opening on Putney Common, demand for school places in Putney continues to rise. The new investment means local schools will have enough classroom space to manage rising demand, and will also give parents more choice".

Ark Academy, attended by many East Putney pupils, will add two new intake classes by using space in its building, which was recently upgraded as part of a £30m school modernisation scheme. St Cecilia's Church of England School will increase its intake by one extra class, and Brandlehow Primary will have enhanced buildings, enabling it to revert to two entry forms.

The Council investment will also support children with special needs. Investment of £350,000 will allow two new classes at Paddock special school in Roehampton, which caters for children with learning difficulties, and Riversdale School in Southfields will see a new £450,000 unit to support children with special needs.

Sarah added: "Putney schools are achieving some exceptional results, so it's essential to meet the rising demand for places, and the Council's extra investment in special needs provision will directly benefit some of Putney's most vulnerable children".
Awards for schools
Meanwhile, two East Putney schools are to receive Wandsworth Pupil Achievement Awards for their educational achievements in 2017. St. Michael's Church of England Primary had the highest proportion of disadvantaged pupils in Key Stage 2 meeting the expected standard in reading, writing, teacher assessment and maths tests. Ashcroft Technology Academy had the highest average points scores per academic entry in GCE A Levels. These schools are among 22 schools that will receive Wandsworth's Pupil Achievement Award, to be presented at the Town Hall this academic year.

East Putney Cllr and Council Leader Ravi Govindia said: "Putney has many excellent schools. Both St. Michael's and Ashcroft very much deserve their awards, which reflect the hard work of head teachers, staff, governors and pupils in achieving outstanding academic results".
Threat to our County Court
The Ministry of Justice (MoJ) has been consulting on plans to close Wandsworth County Court on the Upper Richmond Road in East Putney, and move its cases to other County Courts such as Wimbledon, Kingston or Shoreditch. The MoJ says the Wandsworth court is under-used and needs significant refurbishment. But the Association of Personal Injury Lawyers has spoken out against the plan, saying the other courts don't have the resources to deal with more cases, and "cannot take on extra work without risking some grave failures in administering justice".
East Putney Cllr and Council Leader Ravi Govindia said: "We think this is being rushed without the MoJ examining all options. If refurbishment costs are the reason for closure, the MoJ should look at redevelopment options, including doing a joint venture which could deliver a new court facility at no cost."
New paving for Lytton and Sispara
Residents in Lytton Grove and Sispara Gardens can soon look forward to brand new pavements. The whole of Lytton Grove is be repaved, starting in April. Meanwhile work is well ahead on repaving Sispara Gardens.

East Putney Cllr and Council Leader Ravi Govindia said: "Over the next two years the Council will spend £7.7 million on improving transport infrastructure, which will include resurfacing roads and pavements like Lytton Grove. We are also looking to see if we can resurface the road in Lytton Grove."

Ravi recently attended a drop-in session with Lytton Grove residents to discuss concerns about parking, congestion and potential developments in the area. Ravi said: "One of the concerns Lytton area residents raised with me are the faded road markings, which are exacerbating parking problems. The Council's Highways team will repaint the markings to resolve this issue."
East Putney to get InLinked!


It will soon be goodbye to the sad old phone box between Ravenna Road and Burston Road in East Putney. It's to be replaced with one of Wandsworth's new high-tech 'InLinks' multi-media hubs – with more to follow in the next few months, including one on the Upper Richmond Road at the corner of Keswick Road.

At the new hubs, which will replace various payphone kiosks across the borough, residents can charge their mobile phones, surf the net via ultra-fast wi-fi, and make free landline and mobile phone calls through a touchscreen – especially useful for people on limited or pay-as-you-go plans, out of credit, or whose phone is out of charge. The hubs also have a dedicated button to call emergency services.

East Putney Cllr George Crivelli said: "Last year I saw similar InLink style multi media hubs in New York. They're slimmer and less conspicuous than the old phone boxes, so they take up less pavement space. They were also great at giving public information and promoting local businesses. Putney's InLink screens will display local maps and weather information, and travel information about local bus, tube and rail services. They're also expected to carry on-screen information from local organisations like the Council and police".
Over 1150 new trees
All Wandsworth's 20 districts have had new trees planted this winter. The Council has planted 664 trees in residential streets, housing estates and parks, including more than 500 street trees. Thirty-five of the new trees are in East Putney. At least 500 more will be planted next winter, taking planting to more than 1,150 new trees over the two winter planting seasons. Some replace trees that have died, while others are in new spots. The Council looks after more than 60,000 trees in our parks, commons and open spaces, while around 15,000 trees grow in residential streets and on our housing estates.

East Putney candidate Sarah Binder said: "Sadly trees can die or become unsafe. While residents would often like replacements straight away, you typically need to let old roots rot away first, making space for a new tree to grow. But over the two winter planting seasons, most of the vacant plots will get new trees."

Many of our street trees are monitored by dedicated local tree wardens, who keep watch on the well-being of their neighbourhood trees. People interested in becoming a tree warden can email Wandtreeward@aol.com
Grants for local community work
The Wandsworth Grant Fund is again open for new applications.
East Putney Cllr George Crivelli is Deputy Chairman of the Grants Committee. He's encouraging East Putney community groups to look into applying for grants before the deadline, 23 April 2018.

George said: "The Fund gives grants of £500 - £10,000 to community and voluntary organisations across Wandsworth. We'd love to see some relevant East Putney bids."
The Grant Fund supports not-for-profit activities that benefit Wandsworth residents and communities, across arts and culture, environment, children / young people, citizenship, aspirations / potential, health / well-being.

George added: "If you're involved in voluntary activities in these fields, don't be shy! Council officers are very helpful in advising people on how to apply. You can also email any of the 'Specialist Officers' detailed in the Guidance notes or contact the Grant Officer for advice."
There is an application form, advice and more information here.
News from the Mosque


East Putney Cllr George Crivelli chaired the inaugural meeting of the London Mosque Liaison Group in March. The Group has developed from the local Neighbourhood Forum and brings the Mosque and other stakeholders together to discuss issues relevant to the community around Gressenhall Road.

George says: "Previously our meetings were at the Town Hall, but now we meet at the Mosque, which is an opportunity to bring the Liaison Group closer to the local community." George, pictured with Akram Ahmadi, National Vice President of the Ahmadiyya Community, added: "We had a constructive meeting, discussing issues like parking, congestion and proposed building work at the Mosque. It's great to see residents working together to resolve and promote issues that are important locally."

Meanwhile, the Mosque has been granted Grade II Listed status by the Department for Culture, Media and Sport. Opened in 1926, is the international headquarters of the Ahmadiyya Muslim community, and was London's first purpose-built mosque. Its design is described as "a fusion of Indian Mughal architectural forms and contemporary British trends".

East Putney Cllr and Council Leader Ravi Govindia said: "We very much welcome Listed status for this historic and important local landmark. It is a unique and striking building which represents the diversity of the borough, and deserves special protection and recognition."
Another great year for our libraries
The latest figures show that in 2016/2017, Wandsworth residents borrowed 1,414,828 books from local libraries, the second highest number in London. Our libraries also issued 718,244 children's books.

The Council has kept Wandsworth's 11 libraries open and improved the service, when many other councils are closing them. A big help in this has been outsourcing day-to-day management to the charitable social enterprise GLL, the country's largest public libraries provider, which works closely with the Council. There are new e-resources and software, cloud-based printing and photocopying, more e-books, free wi-fi, access to computers, children's activities, author readings and adult learning classes.

The Council will also build new libraries in the Roehampton and Wandsworth Town regeneration schemes. East Putney Cllr George Crivelli, Deputy Chair of Education, said: "It's great that so many children's books are being borrowed. Young people do better in school if they read regularly, so a local library where they can read, do homework, borrow books and use computers helps them to get on in school and in life."

To find out what's on each month in our libraries, click here.
Charging points - on lampposts!
The Council has begun a radical plan to install over 700 new electric car charging points, including on lampposts. The aim is to boost air quality and make it easier for people to switch to more eco-friendly travel.

Over 400 electric vehicles are now registered in Wandsworth, and the number has been rising by as much as 10% every three months. With the right infrastructure, there could be around 10,000 by 2025.

There will be at least 350 charging lampposts, to be offered on request to residents who have or are buying an electric car. You can register interest in having one near your home here. Charging plugs will also be installed on every suitable lamppost in two pilot zones; about 150 near Putney High Street, and some 240 in Battersea. The results from these trials could see lamppost charging extended further.

Lamppost charging points won't affect parking; there will be no restrictions on the types of vehicles allowed to use adjacent parking spaces, which can be used by both electric and non-electric vehicles.

Another 120 Source London charging points are also planned, adding to the 99 in use at 33 places in Wandsworth. The Council's own fleet is also gradually being replaced by electric vehicles.

East Putney Cllr and Council Leader Ravi Govindia said: "We want to remove barriers to cleaner travel. We will also continue working to improve air quality in other ways, including lobbying for cleaner buses, encouraging cycling, and putting in measures to improve traffic flow on our busy streets. We have recently seen great improvements in Putney and Nine Elms air quality, so we're on the right track."
Revamp for Putney High Street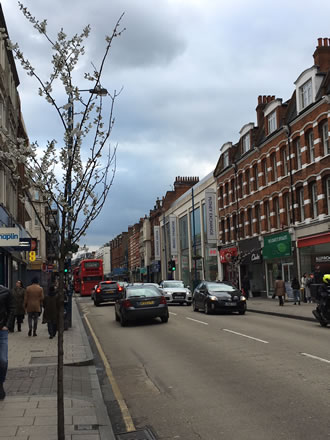 In our Winter e-Newsletter, we reported that your Councillors were working on proposals for Putney High Street, to improve air quality, relieve traffic congestion and enhance the street scene. A radical revamp for the High Street has now been agreed.

The first phase, costing over £600,000, will include widening parts of the pavements, improving the junctions with Putney Bridge Road and Lacy Road, installing public art or a 'green wall' on the cinema façade, uplighting key buildings, trialling a 'Copenhagen crossing' to make crossing easier, removing unneeded guardrails, planting trees, bringing in a 20mph speed limit, trialling a cycle lane and creating more cycle parking. Improvements slated for later include investigating whether the High Street taxi rank might be relocated round the corner, more public art, more open spaces and better bus stops.

There is more about the upgrades here.
Floodlighting Putney Bridge


Plans are also afoot to install uplighting on Putney Bridge later this year, to make the most by night of this magnificent Grade II listed landmark designed by Sir Joseph Bazalgette.
£450,000 has been secured towards the cost from the Neighbourhood Community Infrastructure Levy, a tax the Council charges on large-scale housing developers to help pay for local improvements. The Council has commissioned a full topographical and electrical survey of the bridge and a design team is developing lighting options. Your Councillors look forward to reporting further as the project develops.
Putney Exchange car park proposal
A 500-capacity 'pop-up' drink, food and music venue has been proposed for the top floor car park of Putney Exchange for 4 years.
East Putney candidate Sarah Binder said: "I'm concerned about the negative impact to Putney High Street and residents' enjoyment at weekends if the proposal is approved in its current form. 500 more people in Putney Exchange just for drinking, eating and playing loud music doesn't seem to have benefits for local businesses or residents, who will be impacted by noise, late night rowdiness and losing 50 car park spaces in an area where parking is already limited."

You can find out more, and comment or object until 12 April, at the Council website here.
Council rejects "inappropriate" plan for High Street site
Meanwhile the Council has rejected a controversial plan for a large housing and retail development on Putney High Street. In January, the Planning Committee threw out an application for a development on the corner of the High Street and Putney Bridge Road, the site currently occupied by Preto and Mascalzone.

They decided the proposal, for a ten storey building and 115 flats, would reduce existing retail and business space without adequate benefits for the community, and would be "an inappropriate form of development… unduly dominant and detrimental to the streetscape".
2018 careers fair


The Employ Wandsworth careers fair is returning to the Town Hall on Friday 20 April, with dozens of companies offering hundreds of job opportunities. Organised by the Council's Work Match team, the event is for people who live in Wandsworth and are returning to work, want a job closer to home or with more hours, want to step up a level or need help finding the right career. Visitors can find out about job opportunities, talk to employers, get expert guidance on CVs, career development and starting a business, and find out about training to boost their skills. About 1,000 people attended last year, and this year's event is expected to be even bigger.

East Putney candidate Sarah Binder said: "This is a great opportunity to take see the jobs on offer in our booming business sector, overcome barriers to employment and get help from employment experts."

To be first in line on the day, you can pre-register online here.

Work Match is a free service for Wandsworth residents that matches residents seeking jobs, training or apprenticeships with local vacancies. The team also offers interview coaching, pre-employment training, and help with applications and building confidence. So far they've helped more than 800 people into work.

There is more about Work Match here, along with a list of vacancies. You can also call Work Match on 020 8871 5191 or email your CV to wandsworthworkmatch@wandsworth.gov.uk.
Wandsworth Arts Fringe 2018
The Council's Wandsworth Arts Fringe, south London's leading arts festival, returns on 4 May - 20 May. The festival has grown in success over nine years, and will feature over 180 shows in some 55 venues – from pop-up dance performances at the Royal Academy of Dance in Battersea, an interactive art workshop at WildCity's Big Art Picnic in Tooting and Nine Elms, The Waste Paper Opera Company in Balham, to performance partnership Fragility taking over The Arches at St Mary's Church in Putney. There will be life drawing in Roehampton, an Affordable Art Exhibition in Furzedown, and spectacular circus events in the new Battersea Circus Garden.

East Putney Cllr and Mayor of Wandsworth Les McDonnell said: "The Wandsworth Arts Fringe reflects our borough's vibrancy and helps to create and cement a sense of community. We are proud to support it".

You can find the full programme here.
East Putney Neighbourhood Police web page
Did you know that every Wandsworth Neighbourhood Police Team has its own ward page? You can find out about police activity in East Putney, which are the top reported crimes in our area, get crime prevention tips and tell our local police the crimes that worry you most via the online 'Voice Your Concerns' facility. It's a good idea to tell the police what worries you most, as results go into deciding local priorities. For the East Putney police page, click here.

Cllrs Ravi Govindia CBE, George Crivelli & Cllr Les McDonnell
April 5, 2018