Four tropical fish abandoned in Garratt Lane




Four tiny tropical fish were dumped in 'murky' water in a broken tank on a wall in Wandsworth this week. A passerby spotted the abandoned tank as he walked along Garratt Lane at around 10.30pm on Tuesday night (22 August) and reported the find to the RSPCA.


Inspector Mike Beaman of the RSPCA went to the scene just before midnight to collect the stranded fish which had been left in a small square tank with a black lid and stickers on the glass.

"The water was so murky I couldn't see how many fish were inside," Mr Beaman said. "There was no working filter or light in the tank. And a tub of fish food was left beside it.

"A printed note on a piece of plain A4 paper had been taped to the top of the tank reading 'Please take me'."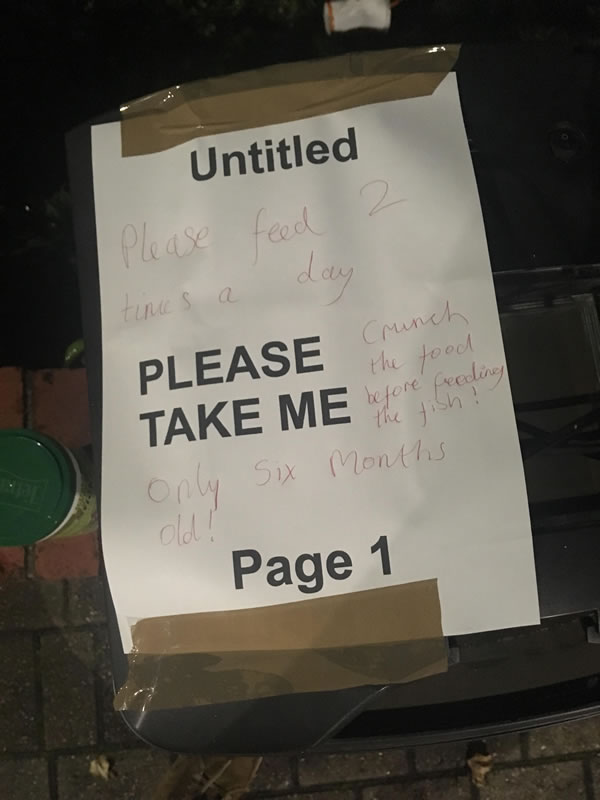 Scrawled on the paper in red biro was the message 'Please feed 2 times a day, crunch the food before feeding the fish! Only 6 months old!'

Inspector Beaman took the fish home and discovered four tiny, silver tropical fish inside. All were active and seemed well.
"I need to get the tank cleaned and set up properly and then, if they're not claimed by a rightful owner, I'll keep the fish and make sure they are properly cared for," he said.

"A lot of people get fish as they think they will be easy to look after. But fish require specialist equipment and knowledgeable owners so they aren't ideal pets for everyone.

"Sadly, we receive thousands of calls every year to collect pets who have been abandoned by their owners when they can no longer cope with them any more. In 2016, 792 fish were collected by RSPCA officers having been abandoned across England and Wales.

"That's why we urge people to do thorough research before taking on any pet to ensure they can properly care for the animal for their full life."

For more information about looking after pets, visit the RSPCA website

To help the RSPCA continue rescuing, rehabilitating and rehoming animals in desperate need of care go to rspca.org.uk/give or text LOVE to 87023 to give £3 (Text costs £3 + one standard network rate message).

August 25, 2017