The finale of the 2015 Formula E racing season is set to take place in Battersea Park this summer after Wandsworth Council's planning committee approved plans for a temporary racing circuit.
The last two races of the electric car racing championship will take place in the riverside park on June 27 and 28.
As well as the main events there will be a Formula E school series race which will see children from ten local schools compete in self-assembled electric kit cars.
Under the approved plans a temporary circuit (see below) will be created largely following the path of the park's existing internal roads. A temporary pits area would be located on an existing tarmacked events site space.
Some temporary structures would be installed throughout the park to house a range of hospitality areas and spectator stands. They would be on a smaller scale to the facilities installed for the Queen's Diamond Jubilee celebrations.
The event organisers have agreed a series of controls to protect the park from harm and to minimise the impact of the event on park users and neighbours. Following the event they will quickly restore the park environment for normal use.
The event will generate a major financial windfall for the park, estimated to be worth up to £1 million over a five-year programme, which will be invested in maintaining and improving this much-loved open space.
The two day event would be ticketed with an estimated 30,000 people attending each day. This compares to up to 55,000 people attending the annual fireworks event and 90,000 who came to the park for the Diamond Jubilee event.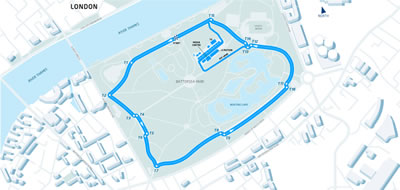 The circuit layout remains subject to FIA approval.

To accommodate the ePrix the park would be closed to the public from 10.30pm (normal park closing time) on Friday 26 June until 6.30am on Wednesday 1 July.
However an area will be kept open to the public throughout so dog walkers, joggers and other local people would still have access to a green open space. The entire length of the Battersea Park riverside walk will also be kept open to the public throughout.
Planning chairman Cllr Sarah McDermott said: "This plan will bring a global sporting event to Battersea and meets a series of exacting conditions to protect the park from harm. We can now look forward to a spectacular racing spectacle set within the grounds of one of London's most beautiful and historic parks."
Read the planning report online.