Councillors vote in favour despite local opposition
While voting for the return of Formula E, councillors conceded important lessons had been learned which will be put into practice over the next two summers to ensure that disruption to people's normal enjoyment of the park is kept to the absolute minimum.
This will involve more strictly controlled segregation of park users from vehicles involved in the circuit set-up and removal, and the potential introduction of rolling temporary closures around the park's perimeter road during these build phases.
The delivery of Formula E infrastructure materials is also set to be reviewed and streamlined to ensure a reduced impact on the park during the build process.
Noise levels are also likely to be reduced for future races. The organisers of Formula E have pledged to significantly increase the number of free audio earphones given to spectators, so the race commentary does not need to be relayed through a public address system that can be heard in nearby homes.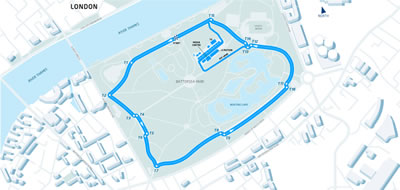 The organisers will also explore alternatives to using helicopters to deliver aerial shots of the race. Some residents complained about excessive helicopter noise on the first day of racing and although this was drastically reduced on day two, cuncillors accepted that it caused annoyance to local residents and pledged that attempts will be made to address this.
Councillors were told that marshalling will be improved for next year – especially during the build and de-rig phases - and that better signage will also be put in place so that park visitors are fully aware that most of the park's 205 acres remain open for use and enjoyment right up to the race weekend.
A post event review conducted by the Heritage Lottery Fund concluded that none of the park's important historical features had suffered any damage or harm.
55,000 people attended the 2015 Formula E event, including around 9,000 Wandsworth residents. Seven thousand residents bought tickets while another 2,000 free tickets were given to local schools, amenity groups and residents associations in the area around Battersea Park.
Wandsworth Council is keen to point out the financial gain from allowing Formula E to take place in the park, pointing out that revenue will be generated for the public purse "which will help fund important local frontline services and at the same time play a role in keeping Wandsworth's council tax bills as low as possible".