For the last time before the event moves to Central London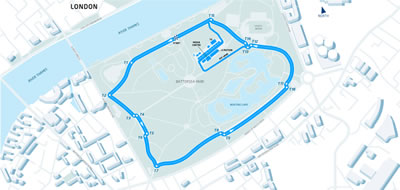 The 2016 Formula E World Championship, which has seen the drivers compete in Berlin, Beijing, Buenos Aires, Mexico City, Paris and Long Beach in California, will be decided this weekend in Battersea Park.
Drivers will compete on a 1.8 mile circuit around the park's existing perimeter road in front of an estimated 60,000 spectators over the two days.
This year's races will be the last time Formula E comes to Battersea Park after the organisers announced last month they are now looking to secure a central London street circuit for future events.

There has been a considerable opposition to the races being held in the park from local groups such the Friends of Battersea Park, the Battersea Society and residents from the Prince Of Wales Mansions and Warriner Gardens. The Battersea Park Formula E Action Group presented a protest petition with just under 3000 signatures to the council last year.
The council says that staging the races in Wandsworth for two years has guaranteed Battersea Park additional investment of at least £400,000. As well as money for the park, the council also reveals that it has also received just under £2.5m, which is being used to help fund other frontline services.
Although most of the park will be closed for the race weekend - and for two days afterwards while the track infrastructure is removed - a section of the park will be kept open throughout for non-ticket holders so that local people who have no interest in the races but want to visit can still do so.
For more information about Formula E in Battersea Park, including details of the arrangements for this year's races, visit wandsworth.gov.uk/formulae
For information about how to get tickets to the event plus updates on this year's championship and details of sustainable energy technology that the race organisers are promoting visit fiaformulae.com/.
June 29, 2016