The young nurse who sang in the NHS B Positive Choir was stabbed to death



The victim, Simonne Kerr (Image: Facebook)
A jury has found a man guilty of the murder of Simonne Kerr in Grayshott Road last summer.

Ms Kerr's former boyfriend Desmond Sylva, 41, was arrested at the scene and charged with murder on 16 August 2018 and now awaits sentencing on July 3rd.
On 15 August 2018 at just before 12.45 police were called to a report of a stabbing at a residential address in Grayshott Road in Battersea.
When they arrived, officers found 31-year-old nurse Simonne Kerr with multiple injuries. A post-mortem conducted on the same date, determined that 70 stab wounds had been inflicted on Simonne, who was discovered partially covered by a duvet in the bedroom.
Cause of death was given as injuries consistent with stabbing.
On Wednesday (19 June) a jury at the Old Bailey returned their verdict and found Sylva guilty of murder.
Simonne, who was originally from Wembley, was back in touch with Sylva after their relationship had initially come to an end in February 2018.
On the day she was killed, Simonne had finished her working day at Guys & St. Thomas' Hospital and travelled to Sylva's flat. At 12.38pm Sylva called 999 and admitted he had killed Simonne, who was pronounced dead at the scene at 13.41pm, despite the best efforts of medics.
Sylva (pictured below) had also called his brother shortly before 12.30pm to explain that he had just murdered his girlfriend.


While other officers attempted to administer first aid to Simonne, and as paramedics travelled on blue lights to the address, Sylva told police that he had mental health problems and claimed that during an argument with Simonne, he had been forced to defend himself using a knife.
Sylva was arrested on suspicion of murder and an investigation was launched by the Met's Homicide and Major Crime Command.
A consultant forensic pathologist concluded that the injuries inflicted upon Simonne were carried out in rapid succession.
The murder weapon – a 20cm kitchen knife – was recovered in the flat in Grayshott Road.
In February 2019, Sylva pleaded guilty to manslaughter and admitted that it was not a case of self-defence, as he had originally claimed. He instead put forward that he had been suffering from depression at the time which caused him to carry out the attack.
In a statement following the verdict, Simonne's family said: "The 15th August will forever be a day our family will remember and we will mourn our loss. A beautiful butterfly will forever remind us of Simonne."

Ms Kerr, who had lived with Mr Sylva in Grayshott Road, was a nurse at Guy's and St Thomas' Hospital who appeared on Britain's Got Talent as part of the B-Positive NHS Choir. She joined the choir after losing her young son to sickle cell disease three years ago.
Detective Chief Inspector John Massey said: "I'd like to pay tribute firstly to the family of Simonne Kerr. Simonne was murdered on 15 August 2018 by a man she trusted and with whom she wanted to rekindle a trusting, loving relationship.
"Desmond Sylva stabbed Simonne almost 70 times and then sought to reduce his guilt and responsibility for what he had done.
"Simonne's family have shown incredible courage and dignity while listening to Desmond Sylva's self-serving version of events. I hope today's verdict goes some way to providing them with the sense of justice and closure that they need to go forward with their own lives.
"The issues before this jury were ultimately very narrow: Desmond Sylva was quite demonstrably not acting in self-defence and he had intended to cause Simonne serious harm. However, Desmond Sylva tried to convince the jury that his previous depressive condition explained his actions and reduced his responsibility.
"Having listened to the evidence put forward by ourselves and the Crown Prosecution Service, this is a narrative that the jury have unequivocally rejected – finding Sylva guilty of brutally murdering Simonne Kerr."

Sylva will be sentenced at the Old Bailey on Wednesday, 3 July.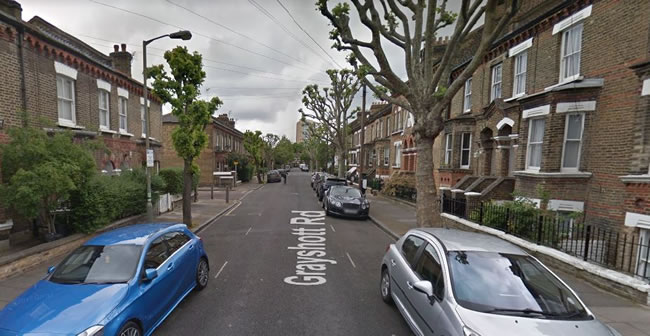 Grayshott Road where the murder took place (Image: Google Streetview)

June 21, 2019