Three men and a woman arrested after early morning raid and taken into custody
A raid on a property in Wandsworth early this Thursday morning (28 September) has resulted in a number of firearms being seized including a rocket propelled grenade.
The weapons which also included rifles, hand guns, pipe bombs and other grenades have been assessed and ruled to be non-viable.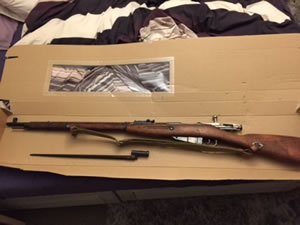 One of the weapons seized
Officers from the Met's Trident and Area Crime Command executed a search warrant at a residential address in at 2am.
Officers working as part of Operation Viper, supported by specialist firearms officers, removed the items. Operation Viper began in 2016 as part of the Met's effort to tackle rising gun crime
Three men - aged 32, 41 and 45 - and a 33-year-old woman have been arrested on suspicion of possession of firearms.
They have been taken to central London police stations where they currently remain in custody.

September 28, 2017