RSPCA now looking to rehome the friendly furry creature


A brown hamster has been abandoned in a dismantled gerbil cage in King George's Park, with a few plastic bags by the side containing some food and sawdust.
A member of the public spotted him and took the adult hamster home before contacting the RSPCA on April 30th.
RSPCA Animal Collection Officer Lisa Miller say,s "I collected the hamster from a kind member of the public who brought the hamster home. He had been left inside a gerbil cage with bags of sawdust and some food but no water. The cage was completely unsuitable for a hamster and had shelves and bits missing which were found in the bag.
"He was in a good condition so I don't think he had been there long and he was very happy to be handled so must have had a loving owner at some point.
"Sadly, we do see small pets like hamsters regularly abandoned and left to fend for themselves. There is never an excuse to abandon an animal in this way and there is always help available for those who feel they are no longer coping with their pets. Hamsters can often be seen as a great first pet for children, however the excitement can sometimes fade and that is when we can see them thrown out.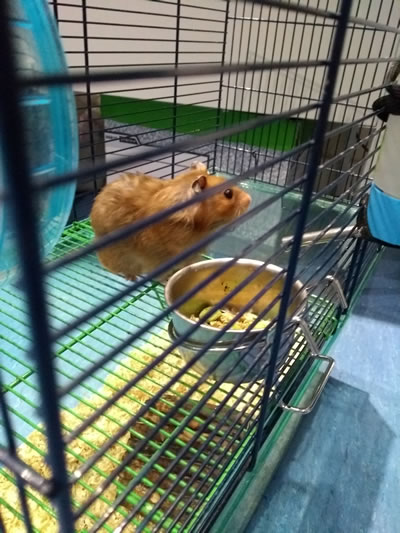 "We are now appealing for anyone with information on how the hamster came to be in the park at about 7pm on April 30th, to contact us on the inspectorate appeal line on 0300 123 8018."
In 2017, the RSPCA saw more than 1,101 abandoned small animals which includes rabbits, hamsters, guinea pigs, chinchillas, degus, rats, ferrets, gerbils, and mice. Of these, 133 were hamsters.
This is up from the previous year when there were 1,029, and in 2016 when there were 984 abandoned small pets reported to the RSPCA.
ACO Miller took the hamster to an RSPCA animal hospital to be checked over by a vet before he will be rehomed.
To help the RSPCA continue to rescue, rehabilitate and rehome animals in desperate need of care, please visit rspca.org.uk/give
May 15, 2018