New UK infrastructure fund announced for the region
Local MP Justine Greening has joined David Cameron on a visit to the Caribbean during which a major investment by the UK was announced.
The government is to invest £300 million in new infrastructure in the region such as roads, bridges and ports to help drive economic growth and development.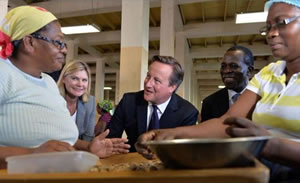 The Prime Minister announced the new fund on Tuesday in Jamaica on the first leg of a 2-day visit which aims to reinvigorate the relationship between the UK and the Caribbean countries. It will make the UK one of the largest bilateral donors to the region.
Justine Greening, who is the International Development Secretary as well as MP for Putney, Roehampton and Southfields, said, "Too many Caribbean countries are held back because they remain vulnerable to severe economic or climate shocks. With some of the highest energy costs in the world, it is difficult for businesses to compete in global markets, leading to decades of slow or declining growth.
"Britain's close relationship with the Caribbean and our new support will help boost growth and kick-start economic recovery across the region as well as creating important trade and investment opportunities for the UK."
Delivered in collaboration with the Caribbean Development Bank, the infrastructure fund will use money from the UK's existing aid budget to provide grants over the next few years for a range of projects that it is hoped will help boost growth and trade across the region, creating jobs and opening up new market opportunities for British businesses.
Welcoming the fund, the Prime Minister said, "We want to help the Caribbean on their path of development – supporting economic growth and creating new opportunities for people living here.
"That's what this £300 million infrastructure fund is all about. It will help to fund upgrades to ports, new roads and new bridges –October 7, 2015r and with the rest of the world. And it will help benefit British businesses too who have the knowledge and expertise to deliver the infrastructure improvements needed."
The Prime Minister had previously ruled out the possibility of slavery reparations being made to the area after the issue was raised by Jamaican PM Portia Simpson Miller. He acknowledged that 'these wounds run very deep' but said that countries in the region needed to move on after he was greeted by a group of protestors with placards outside the Jamaican parliament. He pointed out that Britain's role in wiping slavery "off the face of our planet" should not be forgotten.