About her Westminster and local role with topics including Southfields gas works and Heathrow


Dear Resident,

It was a hectic month both nationally, not least with a change of Prime Minister, and a vote to make sure Parliament is open in September and October, and also locally, with lots of community meetings including on Heathrow and Thames Tideway, and the latest steps on the Heathrow court case. I was one of many MPs to raise a question with the new Prime Minister, Boris Johnson, during his first update to Parliament which understandably focused on Brexit. I'll look carefully at any new deal brought back from negotiations with the EU but I am concerned about the continued Parliamentary gridlock which is bad for jobs and investment. I voted against the damaging suggestion to shut down or 'prorogue' Parliament in the autumn to stop the Commons voting against a No Deal Brexit. I was not surprised that most MPs supported keeping the House of Commons open in the autumn. I'll continue to represent my constituents' views on Brexit under the new Prime Minister.
In other news locally Heathrow expansion plans have been challenged in an appeals court and a date has been set to review the environmental standards on the 21 October. However, read on for a fuller update!
Working in Putney, Roehampton and Southfields
In July, I had a packed month and was out and about locally around Putney, Roehampton and Southfields, alongside following up on the many and varied local and national issues raised with me by residents. I:
• Wrote over 1750 emails and letters to constituents to respond to issues they've raised.
• Had over 80 meetings with constituents, businesses, Ministers and others to represent our community's views.


• Met with Cllr Jonathan Cook, Wandsworth Council's Cabinet Member responsible for the High Street, to discuss the ongoing bids for funding to improve Putney High Street both to City Hall and also to the Future High Streets Fund.


• Handed in a petition with campaigners in West Hill to the Post Office manager reviewing new post office bids, emphasising how important residents believe having a branch on Inner Park Road is to the community. The Post Office have assured me that they are exploring potential sites in the immediate area around the original post office.


• Visited Ronald Ross Primary School to join them for their Geography Week and talked about what it's like as an MP, and also what the school is doing to reduce plastics use.


• Had an onsite meeting in Putney with Nick O'Donnell, Wandsworth Council's Transport planner about council plans to improve traffic flow on the High Street and Putney Station 2nd Entrance. Following the traffic survey that has been done in West Putney, looking at the whole area from Roehampton across to West Hill, there will be options now developed to help combat rat-running and other congestion measures that should be ready for residents to look at in the autumn. I'll keep residents updated once there are more details.
• Joined councillors John Locker and Deputy Mayor Jane Cooper at Wandsworth Council's first Pride Reception at the Civic Suite - it was great to see so many local people from across Wandsworth who do great work in our local community.
• Opened the Greenmead School Fete - their first ever on their new site next door to Ronald Ross School, and got to see all the fantastic work they are doing for their pupils.


• Attended London's Pride Concert in Trafalgar Square with the Wandsworth LGBTQ+ Forum who were there representing out local Wandsworth LGBTQ+ community.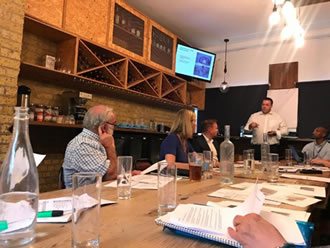 • Chaired two Thames Tideway Community Liaison Working Group meetings for both the Putney foreshore site and smaller Barn Elms site, and also the separate King George's Park site. Work is progressing on all three sites and the meetings give residents a chance to hear directly from Tideway about the work underway, alongside raising any concerns about disruption or the future plans. It's been invaluable to have residents look at the legacy proposals for improving the sites once the work is completed. However, there's still a lot of work left to do so some way to go before the project is completed. It will mean a much cleaner River Thames on our doorstep.
• Visited Putney Leisure Centre to meet with the leisure centre managers to get an update on improvements for the leisure centre. It has 1.5m people visit every year - a huge number of local people.


• Met with local young people involved in doing their National Citizenship Service challenge to hear from them about what they want to see changed locally and in Britain over the coming years. They will be doing community action projects over the coming weeks which means not only do they have the chance to develop their skills by being part of NCS, they also put something back into the community too.
• Went to the opening of the new Sambrook Brewery location at the old Ram Brewery Site, now Ram Quarter, in Wandsworth. There's always been a plan to make sure that the site continued the brewing that has taken place on it for hundreds of years. It's fantastic that the development was able to retain a brewery and it's definitely worth a visit.
• Hosted a meeting for residents to hear directly from Heathrow Airport and express their concerns about the proposed development and third runway. (see longer update below)
• Visited residents at Westmore Court on Keswick Road who have been affected by disruption from work at East Putney station and also potential works proposed by Thames Water.
• Reviewed work by A2Dominion to tackle issues experienced by residents at Clyde House - I wanted to see the progress they've made on works and get updated on when new lifts will be installed replacing the unreliable ones.
Working in Westminster
As your local Member of Parliament, this month in Westminster I have:
• Spoken in debates and asked Parliamentary questions on:
• Proroguing Parliament
• HMRC Loan Charges
• Heathrow pollution
• You can see all my contributions here.



• Met with the Anthony Nolan charity to hear about what we can do to help people with blood cancer. Become a donor here - it's incredibly straightforward, just takes a few minutes and could save someone's life.
• Hosted a Parliamentary roundtable meeting with Universities UK and other MPs to have a discussion around the recent Augur Review and its proposals for both Further Education and also Higher Education and student finance.
• Discussed future plans for the Creditworthiness Assessment Bill with Lord John Bird, and how to take forward our campaign. (see update below)
• Spoke to James Brokenshire, the then Secretary of State for Communities, Local Government and Housing about the Wandsworth bid for Putney High Street and the Future High Streets Fund. (see longer update below)
• Attended the NHS Parliamentary Awards to celebrate the fantastic job NHS staff locally in Wandsworth and around the country are doing in their communities.

• Met with the National Air Traffic team who were in Parliament to brief MPs about their work and spoke directly to them about their review of airspace usage and how Heathrow expansion will impact that. Although airspace can be used more effectively now with new technology, there is no doubt that any third runway makes it much more complex for other airports in the South East.


• Spoke as part of a cross party panel of MPs hearing from teachers and young people about the importance of the updated and improved guidelines on Relationships and Sex Education. Now that this will be mandatory at schools, it was useful to hear about how it can be done in a way that is age-appropriate but also prepares all young people for life in modern, online Britain, regardless of sexuality.

• Met with representatives from the Royal Parks Agency to get updated on the work they are doing to take care of all Royal Parks, including Richmond Park locally for the coming years. We also discussed making sure that the park is accessible for local people who need a car to be able to enjoy it, and also what the Royal Parks can do to work with the Roehampton regeneration work happening on the doorstep and also improving bus services so that local residents can get to the park more easily.



• Met with constituent who won a Young Achiever Award from the Universal Peace Federation Award to talk about the community work that she's done locally supporting people facing domestic abuse.
• Spoke on a CDC Pride panel as part of Pride Week celebrations - CDC is a part of the Department for International Development and UK's development work overseas. It was an important discussion about how human rights needs to sit alongside development and how investors can also drive change through how businesses on the ground operate and support employees.

• Met with two groups of local students from Ashcroft Academy who visited Parliament to discuss what it's like to be an MP and fielded their questions on Parliament and politics.
• Joined a Parliament event that brought together young people, other cross-party MPs and the Big Issue to discuss what future generations want to see focused on by Parliament and how it can get better at taking long-term views and decisions.
• Met with a number of businesses, including Drax Group, PwC, SSE and Standard Life Aberdeen and universities like Lincoln and Sussex who are all part of the Social Mobility Pledge campaign I set up and are keen to ramp up their work collectively on getting more opportunities for more young people.
Heathrow Public Meeting and Consultation - DEADLINE: 13 September and CALL FOR RESIDENTS TO HELP MAKE SURE OUR COMMUNITY RESPONDS TO THE CONSULTATION IN TIME.


This month I held my latest meeting at St Mary's Church to hear directly from Heathrow Airport Limited about its most recent proposals for expansion and to give residents an opportunity to feedback concerns directly. As ever, there was little detail on flightpaths or noise, other than the clear fact that noise will get worse and mean more people locally affected including in Southfields, West Hill and Roehampton. Representatives from Wimbledon and Putney Commons raised concerns with Heathrow about the noise that could blight these beautiful open spaces as it already does for Richmond Park. It was very helpful that the No to Third Runway campaign could be part of the panel.
This latest Heathrow consultation will be looking at the layout of the airport including the location of the new runway, terminals and other infrastructure and how the airport will operate in the future, covering runway alternation, night flights and directional preference. Crucially for our community, it is also seeking views on how Heathrow will manage and mitigate the effects of expansion, including its approach to noise and air quality. These elements have the potential to significantly affect our quality of life and so far Heathrow has not been able to provide sufficient information on the details.

As usual, there are a huge number of complicated and technical documents associated with the consultation. I will be going through these and making my own submission but it will be helpful for us to have the chance to ask questions about the issues that concern us.

The consultation is open until 11.55pm on 13 September 2019 and details are on the website at aec.heathrowconsultation.com. You can provide your feedback using the form on that website, email at feedback@heathrowconsultation or write to Freepost LHR AIRPORT EXPANSION CONSULTATION. You don't have to answer each consultation question individually – you can just provide general comments and you can also send them to me and I'll make sure they are submitted.
**I also would like to get an update leaflet out to local residents to ensure they are aware of the consultation and can feedback their concerns and really make our voice as a community heard, but I need help delivering it to some local households. Please get in touch if you might be able to deliver your street!**
Finally, a group of campaigners lead by Plan B have won their appeal to bring a legal challenge against the decision to build a third runway as it is against the UK's environmental commitments. This is why it is absolutely vital that we must continue to respond to Heathrow consultations, hold Heathrow to account on the promises it has made and continue to challenge expansion plans.

Putney High Street update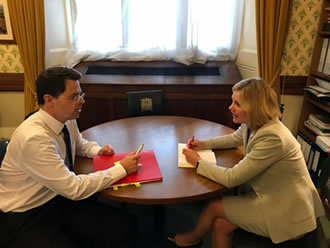 This month I met with the then Secretary of State for Housing, Communities and Local Government James Brokenshire to discuss potential funding that might be available for Putney High Street. We discussed the rounds of Future High Street Funding - I've already also been in touch with Robert Jenrick who has now taken over in that role since my meeting with Mr Brokenshire. In the meantime, Wandsworth Council and the Putney Business Improvement District have applied for several funds from the Mayor of London, including the healthy streets fund, but to date this has been unsuccessful. I've written to Sadiq Khan to ask that he reconsiders these bids in light of the closure of Hammersmith Bridge, which is already having a significant impact on traffic in Putney. I have suggested that the council also makes a specific mitigation fund bid as Richmond Council has in order to get additional resources to tackle the congestion and traffic impact of Hammersmith Bridge closure.
Creditworthiness Assessment Bill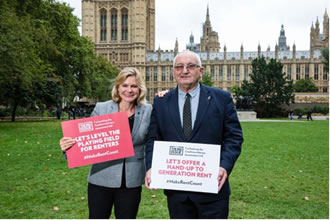 It's frustrating that recently there have not been Fridays when Parliament has sat to allow progress on Private Members' Bills, so that has meant all of them have been stalled including the Credit Worthiness Assessment Bill that will help millions of people who rent to get improved credit scores and access to more affordable credit. The good news is that the Treasury Select Committee has now recommended that the Government supports the Bill through Parliament and has indicated that it expects the Government to signal its support in a response to the report the committee issued. This is great news but it's vital that the new Prime Minister and Chancellor look at this again - people shoudn't be disadvantaged because they are paying rent reliably every month instead of a mortgage.
Southfields Gas Works
As many in Southfields will know, gas works continue following the end of the Wimbledon Championships. Major works for the project have begun again and will last approximately five months along Augustus Road and Inner Park Road. The works will go in four phases to minimise disruption as much as possible, but if you ever have any concerns do get in touch and I'd be happy to contact SGN to raise them and get them dealt with so we don't end up with unnecessary congestion in Southfields and West Hill.
Brexit Update
In his first statement to Parliament as Prime Minister, Boris Johnson gave an initial update on Brexit and domestic issues. It is vital that Britain gets a direction forward on Brexit. A year ago this month, I raised my concerns that Parliament would become gridlocked on Brexit and that, for all her efforts, the then Prime Minister Theresa May was unrealistic to hope Parliament would pass the Withdrawal Agreement and Future Partnership proposal she had agreed with the EU. In the end, it was highly unpopular and didn't get close to being passed even after three attempts.
Even following the statement to Parliament, it's not clear to me how the new Prime Minister will break the deadlock to get a fresh EU deal or whether that can be done in time for the latest 31st October deadline, but the coming weeks will prove crucial. I know that many people are deeply concerned, as I am, about leaving the EU with No Deal. It will be damaging for jobs in many sectors - manufacturing, finance, agriculture and farming - and also be very challenging for public services like the NHS. I'll continue to raise my concerns about this course inside and outside Parliament.
I hope that this update gives you a brief snapshot of some of the things I am working on as our local Member of Parliament. As ever, if you would like to contact me or raise an issue, than please get in touch and I will do the best I can to help. You can email me on justine@justinegreening.co.uk, write to me at 3 Summerstown, SW17 0BQ or call my office on 0208 946 4557. You can also follow me on Twitter, Instagram and Facebook to see all my latest updates.
Best wishes,


August 2, 2019