90 Year Celebration For Katherine Low Settlement
---
A report on the festivities in Battersea High Street
Local charity Katherine Low Settlement celebrated its 90th Birthday on Saturday 17th May with a lively street party. The Mayor of Wandsworth, Cllr Angela Graham, opened the special event by unveiling a blue plaque in memory of Katherine Low, in whose name the charity was set up in 1924. It was generously donated by the Battersea Society.

Local Wandsworth and Battersea MP Jane Ellison, and several local councillors, also attended. A giant birthday cake, baked by local resident Lourita Pusey, was then cut by the President of Katherine Low Settlement, John Wates, and 'Happy Birthday' sung by a crowd of several hundred people, who temporarily blocked Battersea High Street, where the charity is based.

An afternoon of entertainment, food and fun followed - all provided by enthusiastic users and volunteers of the Settlement and other local schools, charities and business partners. The afternoon included dance workshops, Karate demonstrations, history talks, face painting, planting 90 seed' in Fred Wells Garden, 90 hand paintings by local children, the releasing of 90 red KLS balloon, and a raffle (with many prizes donated by local businesses).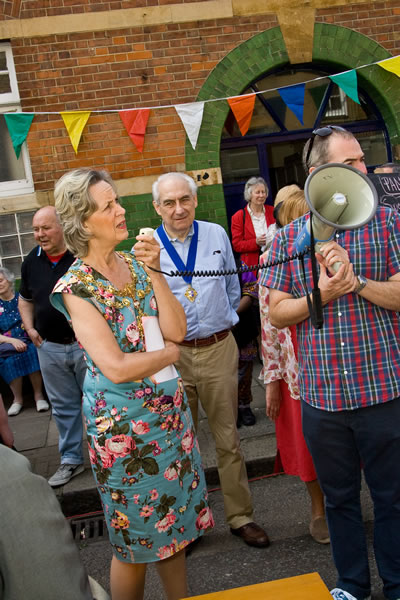 There were also performances from four choirs, reggae and rock bands from local mental health charity Soundminds, and bopping to the Baked Bean DJ crew.

Gwyn, now in her 90s, first attended Katherine Low Settlement back in the 1930s and she returned for the birthday party, and said: "A few things about the building have changed but the place still has the same feel about it – what a lovely party".

Aaron Barbour, Director of Katherine Low Settlement, said:"We had an amazing day, celebrating with all the local community. Everyone came along: users and colleagues past and present, friends and neighbours and those who have never been here before, all joining together to celebrate 90 years of our work of Battersea. Here's to another 90 years."

Margaret Robson, Chair of Trustees of Katherine Low Settlement said: "What a triumph! Many thanks to everyone involved in today's celebrations. It was a marvellous occasion, truly inclusive – a typically welcoming and hospitable KLS, and a great atmosphere."





Above left: Mayor of Wandsworth, Cllr Angela Graham and Left: Angela Graham and local MP Jane Ellison
There will be more events throughout the year to commemorate the charity's 90 years of working with the communities of Battersea and Wandsworth.