Fancy working off the excesses of the festive season with a new football-based weight-loss programme?
Kick the Fat is a 7-a-side league with a difference - it's only for players who want to lose weight. It starts on January 19, but you can sign up now either on your own or with your mates as a team.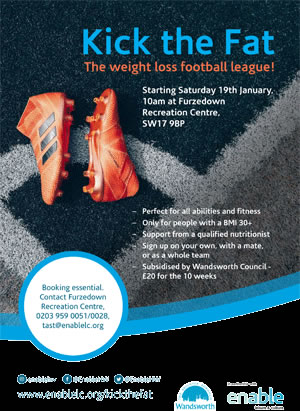 To help motivate players, you will be weighed each week before the game and the weight you lose is converted into goals on the pitch. To help with your weight loss, each week you'll also get a chance to meet with a qualified nutritionist to get tips and advice on your diet.
Kick the Fat is for all abilities and fitness even if you haven't played football for a long time. You don't have to play every week as even non-playing team mates can still lose weight and contribute to the score. The league is only for people with a BMI of 30+, so everybody will be in the same boat.
Kick the Fat runs for ten weeks at Furzedown Recreation Centre, Tooting. It will be delivered by Enable Leisure and Culture and subsidised by Wandsworth Council, bringing the cost down to £20 for the whole ten-week course.
To register call Tooting Bec Athletics Track on 020 3959 0051/0028 or email tast@enablelc.org.
For more information, visit enablelc.org/kickthefat.
Walking Football sessions for older people and a wide range of community exercise programmes are also available. Find out more at enablelc.org/activelifestyles.