Both have been jailed "for their abhorrent acts"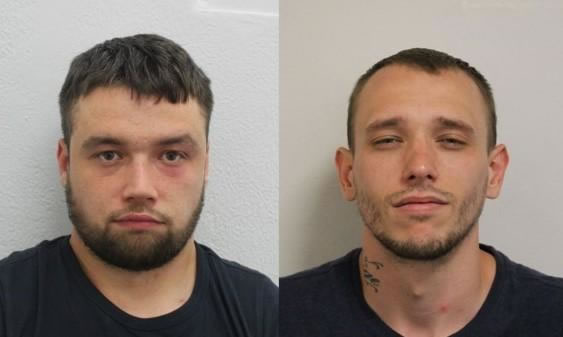 Maher (left) and Manley (right)
Two men who pleaded guilty to a series of knifepoint robberies committed throughout central London over a nine month period have been jailed.

Sean Maher, 26, of no fixed abode and Jay Jay Manley, 26, of Austin Road in Wandsworth both pleaded guilty at Southwark Crown Court to having carried out numerous knife point robberies throughout central and south London.
Maher also pleaded guilty to handling stolen goods, dangerous driving and escape from lawful custody.
Maher was sentenced to 10 years and Manley to five years imprisonment. In 2011, Maher, originally from Battersea, was sentenced to 12 years imprisonment for a previous conviction but six years into his sentence, heer escaped from his category D prison and went on the run.
On 3 May this year a 29-year-old man was walking his dog along Franklins Row, Chelsea, when he was approached by two suspects. The first threatened him with a knife, which was prodded into the victim's stomach. The second suspect took the man's watch before they both made off from the scene.
A week later (10 May) a lone female, aged 45, had parked her car on Sandilands Road in Fulham when she was approached by two men who forced her up against a fence, held a knife close to her and demanded her watch. After she handed it over, they got into a stolen Nissan Qashqai on false plates and drove off.
Late night on 14 May on Britten Street in Chelsea two male victims were approached by three men. The victims were forcibly separated from each other, threatened with knives and punched. Their property stolen, including expensive watches and jewellery. The suspects made off in the same stolen Nissan Qashqai.
On 16 May, Maher and Manley followed their second suspect, a 26 year-old man, back from a restaurant where he had been having dinner in Chelsea. Outside his property on Anderson Street the two men threatened the victim using the same method as before, threatening him with a knife. Once again they stole the victim's watch.
On 21 June at around 3.30pm, a lone 47-year-old female was walking in Manresa Road in Chelsea when a stolen land rover on false plates drew up beside her. Again, two males got out and violently robbed the woman of her expensive watch.
Westminster Crime Squad were assigned to investigate on the same day as the Manresa Road robbery and Maher and Manley were established as prime suspects.
In June this year officers from the Crime Squad were about to enter an address in Seely Road, Tooting, when Maher jumped into a car and made off at speed along a pavement before re-joining the road.
Police followed until Maher came up against a refuse truck blocking the road. He mounted the pavement and crashed through bins, narrowly missing refuse collectors.
No one was injured and the officers pursuing self-terminated the pursuit due to obvious dangers.
On 2 July after further investigation, the officers forced entry to a flat in Macey House in Wandsworth where they found Maher hiding in a cupboard.
The flat was searched after Maher's arrest and evidence linking him to some of the robberies was found. He was charged on the same day with the following offences: escaping from prison; three counts of robbery; possession of an offensive weapon; dangerous driving; handling stolen goods; two counts of driving with no insurance; two counts of not being in accordance with a licence and possession of cannabis.
Since first being charged he has been further charged with another three robberies involving knives.
Enquiries into the robberies continued and on Tuesday 17 July the second suspect, Manley, was arrested and charged with three of the robberies and also charged with three offences of possession of offensive weapons.
Manley was remanded into custody and further charged with the robberies in Anderson Street and Manresa Road.
Detective Constable Tony Holley, the investigating officer from Westminster Crime Squad, said, "I am pleased that justice has prevailed and these men have now finally received punishments for their abhorrent acts.
"I hope that with this sentence the victims can now look at trying to move on with their lives, which have been vastly affected by this incident.
"The enormity of the impact these men have caused cannot be underrated and I am pleased they are behind bars and no longer pose a threat to the public."

November 9, 2018