Authentic Indian Cuisine served in a stylish atmosphere
It was a cold evening when we stepped off Replingham Road and into the Namada restaurant, so we appreciated the warm welcome we met on our arrival.
It was clear this family-run Indian restaurant goes out of its way to make hospitality a top priority. As the restaurant itself feels like its nestled in a residential area, they do have a head start in making you feel 'at home'.
We picked an early midweek evening so it was comforting to see other people were already dining when we arrived not long after 7pm.
The restaurant itself is spacious, and although it's clearly an Indian restaurant, it has a very modern air to it. The tables are not too close to each other, and most of them seemed to have a great view of the wide window frontage.
We settled in our seats and waited to see if the modern atmosphere of the venue would be reflected in the cuisine.
We began with spicy and plain pappadums along with an accompanying chutney platter. This certainly had a modern look to it (see left), and ticked the box on their menu which said they served "Indian culinary art". As we polished off the pappadums we wondered if our starters would look even more attractive.
I certainly wasn't disappointed with my papri chaat (£4.50). The menu said it was a cocktail-sized crunchy pancake topped with sliced potatoes, yoghurt, tamarind chutney and crispy sev. I don't know about "cocktail-sized" - this was very generous for a starter, and did look like a work of art on a lovely 'half moon' white plate. It combined different flavours and textures which worked really well together, and the yoghurt drizzled across it just completed the dish.
My friend picked the crispy calamari (£4.95). Although this didn't have quite as striking a look as my plate, she enjoyed the fact the squid had more of a 'dusted' coating rather than being cooked in a thick batter. She found it more healthy, as well as being tasty and satisying. Like all their portions, it was a generous one.
For my main course, I picked Kerala fish curry (£8.95), and asked for a 'one spice' version, rather than the 'two spice' one in the menu. I was glad I did, as it was spicy enough like that. The curry itself was rich and brown - packed with flavour. The fish came in lovely chunks which melted in my mouth as I ate them. This dish was certainly a winner!
My friend's main course was an interesting combination - a Jardaloo apricot and lamb curry (£8.95). She felt the apricot gave it that touch of a healthy feel again, and also commented that the curry sauce was beautiful and rich. It was spicy, but not too spicy for her, and we both noted there was none of that awful artifical colouring and oiliness you can get in some Indian restaurants.
She had basmati rice (£3) and I had a lemon rice with cashew nuts (£3.95). My rice was just gorgeous and I was sorry I couldn't finish it all off. We shared a tasty chapati (£1.95) as well. Some people might share a rice, and perhaps a naan as well. They did have six different naan breads on offer.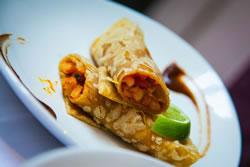 As we tucked into our food, a few more tables around us started becoming occupied. It added to the atmosphere, and everyone seemed very friendly - giving it a real community feel. The waiters had been attentive throughout, and we enjoyed having a chat with them.
There were desserts on offer, but we'd filled ourselves right up, so finished off our evening with a coffee each. The Namada was certainly a pleasant, and un-hurried, place to sit as we let our meals settle and reflected on a lovely evening in homely Southfields.
by Sue Choularton