Neville Richards died rescuing his family in 1982



Neville 'Noddy' Richards in 1982
Police detectives have launched a fresh appeal for witnesses and information more than 30 years since the murder of a Lance Corporal who died rescuing his family from an arson attack in Maysoule Road.
Neville Richards - known as Noddy - died inside his family home in Battersea while on leave from the Army for Christmas in December 1982.
No one has ever been charged with his murder and almost 34 years later his former wife remains desperate for answers about what happened.
Detective Inspector Susan Stansfield, of the Met's Special Casework Investigation Team at the Homicide Command, said, "Noddy was a decent young man who had built himself a promising career in the Army and was popular among his comrades.
"He was home for the festive season and had spent Christmas Day with his family before the horrific events of the following morning.
"Noddy put the safety of his family ahead of his own and sadly he was overcome by fumes before he could get out of the flat himself."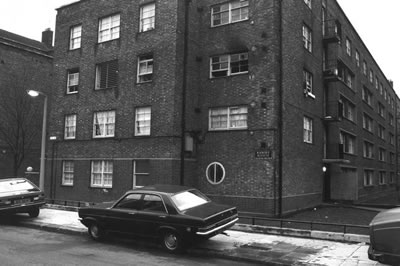 Noddy, 22, was asleep in his flat at Ramsey House on Maysoule Road on the Winstanley Estate (pictured above) on Boxing Day, Sunday 26 December 1982. Also there was his wife Martina, 20, his mother and his step-father. Noddy and Martina did not have any children.
Just before 6.30am a fire broke out after petrol was poured under the front door and ignited with a piece of burning fabric. The flames quickly enveloped the hallway and spread to the rest of the flat.
Noddy, who had been sleeping with his wife in the lounge, woke and ran to help his mother in the bedroom.
Martina jumped to safety from the lounge window while Noddy's mother and her husband climbed onto a balcony and were rescued by the fire brigade, who had been alerted to the blaze.
Sadly Noddy, a Lance Corporal in the 2nd Battalion, Royal Tank Regiment, posted in Munster, Germany, was overcome by fumes and collapsed in the hallway. Firefighters kicked down the front door but it was too late to save him.
A 28-year-old man was arrested in connection with the investigation but later released with no further action.
Despite extensive enquiries the case has remained unsolved. Officers reviewed the files in 2012 and carried out further lines of enquiry. However, no one was arrested.
DI Stansfield said, "It was a long time ago but I'm sure lots of people in the local area would remember Noddy's murder. Did you live in the Maysoule Road area? Did you see or hear anything suspicious in the early morning of Boxing Day 1982? Someone perhaps with a petrol can?
"In the weeks or months following the fire, did you hear any talk in the local area? If you have any information, no matter how small or insignificant you think it might be, please come forward. Maybe you didn't contact police at the time as you were too scared but with the passage of time now feel able to tell us what you know in confidence.
"Noddy had a loving family and it's heartbreaking that three decades on they still haven't seen his killer brought to justice."
Martina Lewis, who had met and married Noddy in Germany and now lives in Hampshire, said, "After 33 years the pain of Noddy's loss remains as painful as ever.
"Noddy was a lovely, caring and gentle human being who was also extremely fit as he loved his sports and running marathons. He was denied a life with family and friends, having children, grandchildren and a whole life full of opportunities.
"There's not one day that goes by that I don't think of Noddy. Some little things make me remember him in a funny way, but when my own son turned 22 years of age I looked at him and it hit me like a ton of bricks that that was the age Noddy got killed.
"Because of all this I appeal to anyone from the bottom of my heart who knows anything, no matter how small, to listen to their conscience so the person who did this awful crime can be brought to justice. I didn't even get to say 'goodbye' to Noddy or hug him one last time...."
Anyone with information is asked to contact police on 020 7230 4294 or Crimestoppers anonymously on 0800 555 111.
October 25, 2016