£14 million project to reduce risk of flooding, pollution and pressure on sewers

An ambitious new project designed to cut dramatically the amount of clean rainwater becoming contaminated in London's sewers is set to be launched this summer across Nine Elms.

Rainwater will be channelled back into the Thames to stop it entering the capital's overstretched sewers where it would mix with raw sewage.

This is designed to reduce flood risks and save the huge amount of energy and cost involved in treating rainwater after it combines with waste from sinks, toilets and washing machines.

The £14m project will be the biggest sustainable urban drainage system (SUDS) in the UK and has been developed through a partnership between Thames Water and the Nine Elms Vauxhall Partnership, which includes Wandsworth Council, Lambeth Council, the GLA and local developers including Ballymore.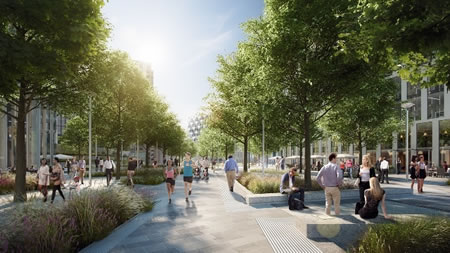 How part of the new Nine Elms Park could look. The SUDS network would be buried below
New developments in Nine Elms have pioneered design features in new buildings and landscaping that capture rainwater, and increase evaporation before directing flows to a surface water network.
Rainwater will drain into large underground pipes buried beneath the new Nine Elms Park which will be a new green channel through the area from Vauxhall to Battersea Power Station. After heavy rainfall the water will be gradually pumped from this underground reservoir into the Thames via an upgraded pumping station in Ponton Road.
Thames Water sustainability director Richard Aylard says, "By keeping the rain out of our combined sewers we are reducing the risk of flooding, pollution and pressure on our sewers, this will become especially important in the long term as London's population continues to grow rapidly and the climate changes. It is about putting surface water back where it belongs – in the river.

"Development and regeneration across London is a major opportunity to do something different with surface water, to take it out of sewers, create additional capacity for new homes and businesses and allow areas like Nine Elms on the South Bank to thrive. Initiatives like this will also help to prolong the life of the Thames Tideway Tunnel."
The unique drainage network will interact with a variety of eco-friendly rainwater design features included in new developments across Nine Elms. These include green roofs, swales - ditches containing vegetation used to remove pollutants - and streets with rainwater gardens which allow water to evaporate into the atmosphere, irrigate plants and generally reduce the volume of rainwater flowing back into the river.
Find out more at nineelmslondon.com
August 3, 2016