Crucial work completed to extend the Tube into Battersea and Nine Elms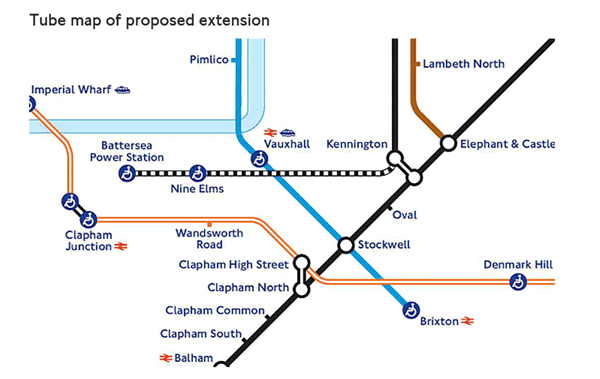 Map shows the two new Northern Line stations on the extension route

Northern line customers can interchange between the Bank and Charing Cross branches at Kennington again following the completion of vital work as part of the Northern Line Extension into Nine Elms and Battersea.

The excavation of four new customer passageways at Kennington Tube station has meant that Bank branch trains have not been stopping at the station since the end of May.
Following this construction work, the final fit out of the passageways will now continue as planned during engineering hours. This includes the installation of the flooring and electrical works as well as tiling the passageway walls.
The complex and intricate work, which was completed on time, saw engineers:
•Dig out almost 2,000 tonnes of spoil (mostly London Clay) by hand
•Install timber and steel supports to strengthen the structure of each customer passageway
•Use around 900 tonnes of concrete and 500 tunnel ring segments to create the new structures
Stuart Harvey, TfL's Director of Major Projects, said, "I'd like to thank customers for their patience while we worked around the clock to construct four new passageways at Kennington. When completed, the passageways will make it easier to interchange at the station. The Northern Line Extension is an essential part of our investment programme which will continue to improve customers' journeys and add vital new capacity to the capital's transport network."
Once completed, the four additional passageways will make it quicker and easier for customers to change between different branches of the Northern line at Kennington, and will be essential for those using the new Northern Line Extension from Kennington to Battersea Power Station via Nine Elms, which is targeted for completion in 2020.
The Northern Line Extension will bring Battersea and surrounding areas to within 15 minutes of the City and the West End.
Major tunnelling on the extension finished at the end of last year and, over Christmas, the new and existing Northern line tunnels were connected for the first time. Track is being laid in both tunnels and work on the new stations at Battersea and Nine Elms is progressing well with platforms currently being installed.
September 18, 2018