New Tube Stop At Battersea Power Station Faces Delays
---
Following unresolved funding issues between TfL and the developers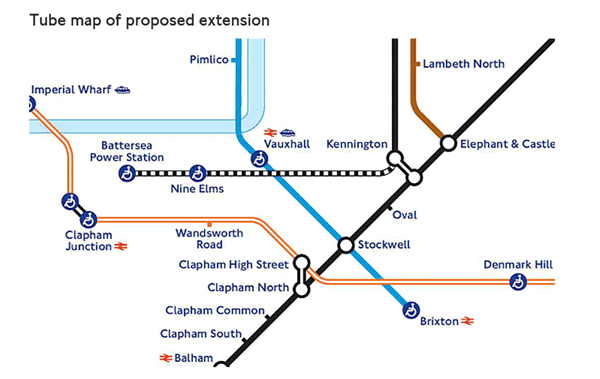 How the tube map will be re-drawn
TfL could delay or even halt the new Northern Line tube stop at Battersea Power Station in Nine Elms over a cost dispute with the Battersea Power Station Development Corporation (BPSDC).

In May, TfL disclosed that the cost of the tube extension had increased by £240 million following changes to the original design of the new tube stop.

Since then talks between TfL and the developer have not resolved how the increased costs will be funded.
Yesterday (Sepetmber 28th) TfL Major Projects Director Stuart Harvey told the London Assembly budget committee that the dispute over costs could result in keeping the new station closed.

In April work started on the boring of the new Northern Line tunnel from Battersea and since then the two giant boring machines, Helen and Amy, have made significant progress in their journey to join the existing Northern Line.

Two new tube stations are being built – Nine Elms station in Pascal Street and Battersea Power Station on Battersea Park Road next to the Power Station development. These will serve new developments such as the US Embassy, the Power Station and the redevelopment of New Covent Garden Market, as well as existing communities.

Stuart Harvey is reported in online building industry resource Construction News as saying that he could not forsee an agreement being reached before Christmas and that a scheduled completion by 2020 would be "extremely challenging". Mr Harvey did not rule out the dispute ending up in court but added that this would not be the route either party would want to take.

This website has contacted BPSDC for comment.



September 29, 2017