TfL confirms the vital route will not be scrapped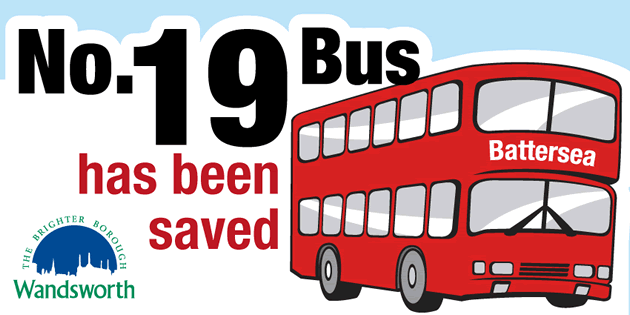 The number 19 bus route linking Battersea to central and north London will not be scrapped, TfL has confirmed in writing to the Council.
Under the proposals the route would only have run from Finsbury Park to Holborn, where it would have terminated. important it is to link residents to the West End and underground services. Scrapping it would have meant many passengers, including older and disabled people, would have faced longer waits at bus stops, more changes and longer journey times.
Local councillors have been lobbying to save the bus since November, and in February the deputy cuncil leader and cabinet member for transport Cllr Jonathan Cook presented a petition to TfL signed by more than 2,200 residents and businesses.
He also wrote to TfL with the results of a survey carried out by the borough's transport planners. This showed that passengers would need to change buses on 5,200 trips whereas previously their journey was direct – this is 18 per cent of all journeys taken on the route.

Cllr Cook has welcomed the news, "The 19 is a key route and local people were very concerned about losing it, especially because of the lack of transport options in the area and the expected increased demand due to new developments such as the Royal College of Art.
"I am delighted that TfL has seen sense and listened to the view of Wandsworth residents and businesses.
"The people of Wandsworth can rest assured we will continue to stand up for their interests and fight for the transport infrastructure the borough needs and deserves."

Battersea MP Marsha de Cordova urged her constituents to take part in the consulation to keep the number 19 in Battersea as well as writing to TfL askinging them to reconsider the proposed removal.

Battersea Labour Party said: "We're delighted that TfL has axed plans to curtail the 19 bus service thanks to the hard work of Marsha de Cordova, London Assembly member Leoni Cooper, local councillor Emily Wintle and everyone who supported the campaign."

April 16, 2019