Exploring damage and healing through stitchwork
Battersea Park's Pump House Gallery explores damage and healing through stitchwork and other media in its new exhibition.
What Do I Need To Do To Make It OK? runs from August 27th to November 1st and features commissioned artwork that investigates damage and repair, disease and medicine, and the healing and restoration of landscapes, bodies, minds and objects.
The exhibition's title is taken from a 2013 talk by artist Dorothy Caldwell, whose work explores how humans have marked and visualised landscapes over the centuries. Caldwell transfers these ideas into striking wall-hung works, hand-stitched into layers of dyed cloth and felt.
Other artists exhibiting include Freddie Robins who uses precision machine-knitting, combining hand-crafted and found objects to examine preoccupations with crime, illness and fear. Meanwhile Celia Pym's interest in process has led her to knit her way round Japan, to rescue discarded garments and to darn the clothes and bags of medical students.
Karina Thompson is also interested in investigating medical territory and employs high-tech embroidery to navigate complex data, from cardiology scans to bones exhumed from a medieval cemetery for lepers.

Saidhbhín Gibson's artwork focuses on man's impact on and interaction with the landscape.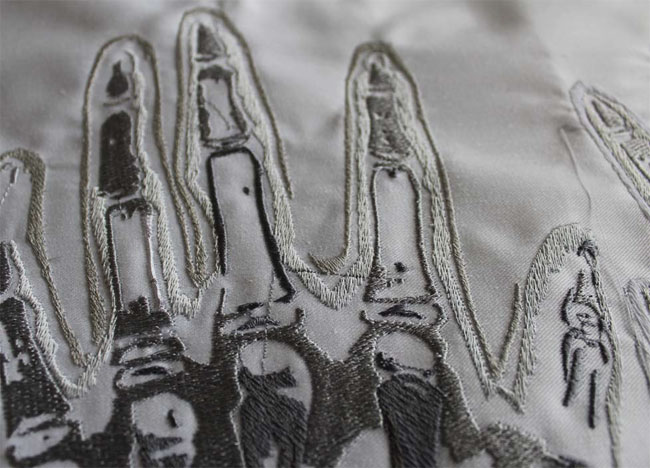 Above: Katrina Thompson's White Hand
For more information visit Pump House Gallery, email info@pumphousegallery.org.uk or call 020 8871 7572.


August 26, 2015