Battersea Park's Pump House Gallery Reopens After Flood
---
With Surface Tensions by Czech Artists Pavla and Lucia Sceranková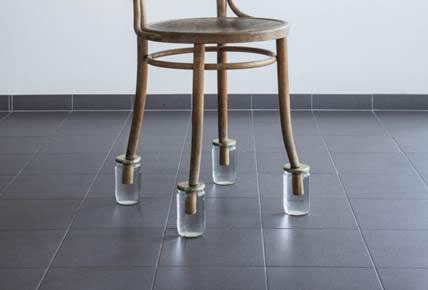 Pavla Sceranková, Research, 2015. Photo: Hynek Alt. Courtesy the artist and Drdova Gallery, Prague
Following a flood earlier this year Battersea Park's Pump House Gallery reopens on April 12th with an exhibition of new and existing work by sisters Pavla and Lucia Sceranková in connection with the London Czech Centre.

The artists' first major exhibition in the UK reflects visual, material and conceptual influences on their work and its contexts. Pavla and Lucia Sceranková have developed the show in response to the unique architecture of the gallery and its setting in Battersea Park.

Pavla Scerankova's sculptural installations and video-performances express minimalism, subtle humour and sensitivity to surroundings. They invite the viewer to interact and explore the relationships between perception and the perceived world. Lucia Sceranková makes photographic and sculptural installations inspired by her surroundings and playing with illusion, reality and fiction.

In addition to the exhibition at the Pump House Gallery a new, temporary public artwork will be sited in Battersea Park's Pleasure Garden fountains, inspired by the sisters' research on the history of the fountains as part of the 1951 Festival of Britain. Accents of this research are picked up in the work on display at the gallery.

Tension is at the heart of the exhibition and explores the tension between the two artists' and their work that is being presented at such close quarters, the physical tension within many of the works and the tension of the artists inviting the audience to interact with certain works.

The audience is invited to explore the site of Battersea Park as a whole and think about the meaning of the exhibition within the setting of the park.

Surface Tensions runs from April 12th-June 11th.

This exhibition was initiated by Czech Centre London, organised in partnership with Pump House Gallery and curated by Pump House Gallery and Lily Hall.

It is supported by The Elephant Trust; the Ministry of Culture, Czech Republic; and the Embassy of Slovakia in London.
April 4, 2017