Tara Arts Presents... Three Sat Under The Banyan Tree
---
Adaptation of an ancient Indian collection of animal fables
Three Sat Under The Banyan Tree is the first stage adaptation of The Panchatantra (India's Aesop's Fables) in the UK. Directed by Tara Arts' Artistic Director Jatinder Verma, the children's piece for ages 7–12 incorporates masks, movement and music.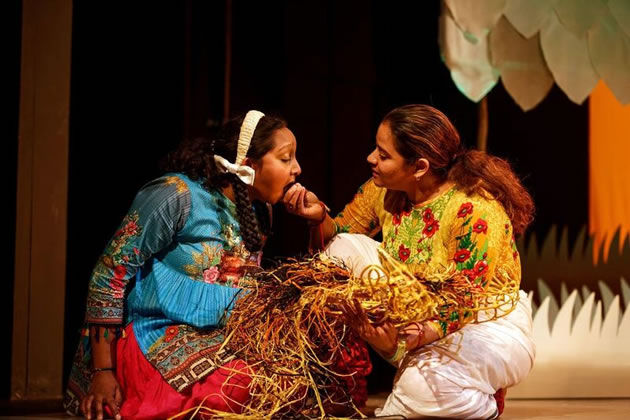 Near the foothills of the Himalayas, three refugees open a magical book under a Banyan tree. Stories of a headstrong crow, a brave mongoose, and a tortured tiger come vibrantly to life, with masks, movement and music, to offer lessons for the young refugees seeking to re-make their lives.
This three-hander includes Rose-Marie Christian in the role of Jayaben, Halema Hussain in the role of Yasmin and Raj Swamy in the role of Mahendra.
Rose-Marie Christian's theatre credits include Tales from the Arabian Nights (London Bubble), Dick Whittington, Aladdin, Home Theatre (Theatre Royal Stratford East), Does My Bomb Look Big In This (Bush Theatre), Little Revolution (Almeida), Two Boys (English National Opera), Acting Up (Rich Mix), The Crucible (Talawa), Absolute Return (Orange Tree Theatre), Suffocation and Bussing It (Oval House). Her film credits include Still Life (Still Life Productions), Escape and Rinsers.
Halema Hussain trained at ALRA. She is a bilingual actress and proud member of Dangerous Space, created by Barbara Houseman and Nastazja Somers. Theatre credits include Trixie in She Had Beautiful Handwriting For a Junkie (Theatre N16) and Aisha in Does My Bomb Look Big In This? (UK Tour). She also played Zainab/Hasina in Sudha Bhuchar's Child of the Divide (UK/TORONTO Tour), and Marry Warren in Arthur Miller's The Crucible (ALRA).
Raj Swamy is making his professional debut with Tara Arts since graduating from East 15 Acting School, where he studied BA World Performance. Raj has been involved in television productions such as Bad Education (BBC) and Birds of a Feather (BBC) and recently played the role of Kharak in feature film Red Joan (Trademark Films) alongside Judi Dench.


Artistic Director Jatinder Verma said, "Bringing stories such as Shamser Sinha's brilliant new take on India's classic fables, reminds us that diversity is for all, young and old; offering powerful ways for making connections with other cultures and worlds."
Under The Banyan Tree shows at the Tara Theatre on Garratt Lane, Earsfield from February 20-23. Box Office details here
January 3, 2019