Six proposals have been submitted - which one do you like best?
A display of six different designs to brighten up the Thessaly Road underpass has now gone on show.

Residents, businesses and local school children are now invited to comment on design proposals for the Thessaly Road Railway Bridge (pictured below), near Battersea Power Station.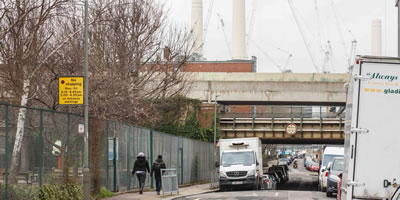 The aim is to improve the appearance and feel of the underpass, turning it into an attractive and user-friendly route for pedestrians and cyclists.
Wandsworth Council - in conjunction with the London Festival of Architecture - launched the call out to architects, designers, artists and students back in January and have now unveiled the final proposals from the six shortlisted designers or architects.



ArchitectureDoingPlace, West Port & Co, Mary Evans, WriteTalkListen

Selected out of 108 organisations, the shortlisted architects worked with the local area to come up with the final designs. An expert panel will choose the winning proposal after considering the comments gathered through the public consultation.



Design by De Rosee Sa

Cllr Steffi Sutters, Wandsworth Council cabinet member for community services and open spaces, said, "The Thessaly Road underpass, which is right next to St George's Primary School, has long been overdue a make-over and I am delighted to see these vibrant designs, any one of which will make a real difference to the journeys of everyone who passes through.

The entry from Farrer Huxley Associates
"It is great to be working with the London Festival of Architecture on this project and getting the community directly involved in helping to choose a really creative design that will transform this community gateway. We are looking forward to hearing what local residents and people who use the underpass think of the six shortlisted proposals."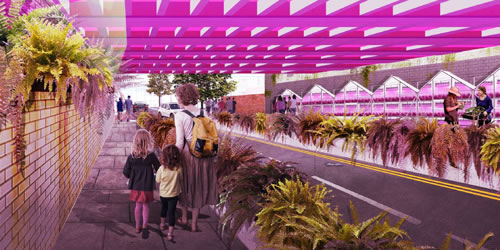 Design by Jan Kattein Architects
The chosen designers or architects will be awarded a £20,000 fee and the work will be developed and installed as part of London Festival of Architecture 2019, subject to planning permission.



Mesh, BIGG Design and Matthew McGuinness
Tamsie Thomson, Director of London Festival of Architecture said, "The Thessaly Road Railway Bridge competition offers an excellent example of how architecture and design can be harnessed to make a huge difference to the lives of thousands of people.
"I'm delighted that local residents will now have the opportunity to have their say on the shortlisted designs, and be part of the process that will turn a neglected corner of the city into a much more attractive environment for local communities, and a vibrant showcase of London's creative talent."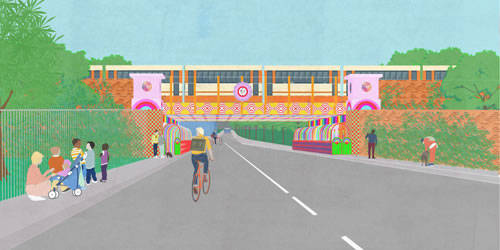 Design by Yinka Ilori
To view the shortlisted proposals and have your say visit the consultation website.
The consultation process will run until 18 June.
The exhibition is running at:
ROSE Community Centre, Ascalon Street:
Tuesday, June 12: 12-5pm
Wednesday, June 13: 12-5pm
Tuesday, June 19, 12-5pm (after the consultation has closed)
St George's Church, 11 Patmore Street:
Saturday, June 9: 11am-3pm
Sunday, June 10: 11am-3pm
Copies of the designs will also be attached to the railings of St George's Primary School throughout the consultation period.

June 8, 2018