Three foot long snake has now been rescued by the RSPCA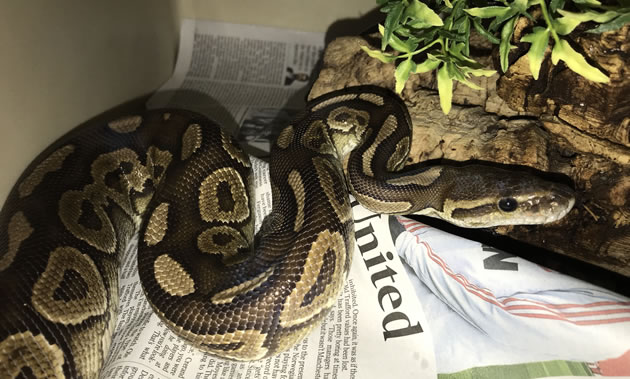 Python now safe in Putney Animal Hospital

A three foot long python was found loose on Tooting Graveney Common by a member of public who was out walking on Saturday (9 February) and who called the RSPCA for help. An appeal for information has now been issued by the animal charity in the hope of finding the owner.
RSPCA Inspector Phil Norman said, "This beautiful snake - identified as a Royal Python - was found by a walker near a pond on Tooting Graveney Common. The snake is now being cared for at RSPCA Putney Animal Hospital. Thankfully, it is in good condition and is eating well. We're grateful to the caller who found the python and got in touch.
"It is possible this snake escaped from a property in the local area, in which case someone will be missing their beloved pet. The owner, or anyone with information, can contact the RSPCA on 0300 123 8018.
"Sadly, RSPCA officers often deal with incidents concerning abandoned or escaped exotic animals. It is so important people understand what is required to meet the animal's complex needs, and that accommodation is always secure, safe and appropriate. We would encourage prospective owners of any exotic pet to thoroughly research the animal's needs, using expert sources, and only consider keeping one if they can ensure they are fully able to provide for these needs. The needs of exotic animals are the same as they would be in the wild and are often linked to behaviours, diets or environmental conditions that can be difficult to replicate in a home."
To find out more about what is involved in keeping exotic pets, visit the RSPCA's webpage. www.rspca.org.uk/adviceandwelfare/pets/other
The RSPCA advises that if a snake is found and believed to be non-native, the public should keep a safe distance, and contact the RSPCA on 0300 1234 999.
To help the RSPCA continue rescuing, rehabilitating and rehoming animals in desperate need of care please visit rspca.org.uk .

February 16, 2019