Manhunt now on for Jack Shepherd who failed to appear at his trial
The man who persuaded his date to take control of his defective speedboat has been found guilty of manslaughter by gross negligence.

30-year-old Jack Shepherd, who was tried in his absence, is now the subject of a police man hunt. Shepherd, who was described as being from Abergavenny, Wales but also resided on a houseboat in Hammersmith was convicted at the Old Bailey on this Thursday (26 July). He was last seen in March 2018 in Devon. A warrant has been issued for his arrest. Anyone who may know his whereabouts is urged to call police on 101. For an immediate sighting, call 999. He is due to be sentenced in his absence this Friday.

Jack Shepherd
Investigating officer, DS Christopher Davies from the Homicide and Major Crime Command said, "Although Shepherd had been drinking excessively he knew what he was doing and was desperate to show off his speedboat in a vain attempt to impress young women. He waited for the highest tide to enable faster speeds. He brazenly offered over the controls of his defective vessel to a woman who had no previous experience with boats. To do this at night, whilst drinking and driving erratically in winter conditions without offering the passenger a life jacket or asking if they could swim was a recipe for disaster. Sadly it did end in tragedy for Charli. Our thoughts are with her family at this difficult time."
The court heard how on the Tuesday, 8 December 2015, Shepherd had met 24-year-old Charlotte, who preferred to be known as Charli, at a restaurant at the Shard. This was their first date and the pair consumed two bottles of wine before they both went back to his houseboat after Shepherd told Charli that he had a speedboat and they could take it out on the river.
They both took a taxi to his houseboat near Hammersmith Bridge. A message from Charli to her sister at 10:12pm said, "Still Alive. Waiting for the tide so we can take it out." When asked she confirmed that they were going out in Shepherd's speedboat.
Later that evening, the couple went out on the speedboat "Arrowflyte" and Shepherd described how he drove the boat from Hammersmith to central London and part of the way back. Neither were wearing lifejackets and Shepherd later told police there were two life jackets stored in the boat, but these were out of view. He also admitted that he did not tell Charli about the lifejackets or asked her if she could swim.

Charlotte 'Charli' Brown
The pair continued drinking alcohol on the speedboat as he drove from Hammersmith Bridge to Waterloo Bridge. Shepherd stated that he was exceeding the speed limit of 12 knots for that stretch of the river and was probably driving erratically, but that he had done it lots of times in the past. He clarified that he normally drove the boat "flat out" on a straight stretch at approx. 30 mph, but 15 mph if there were obstructions in the river.
A witness later told police that at about 11pm he was standing on the pontoon on the river when his attention was drawn to the noise of a boat engine and the sound of shrieks and laughter. He then saw a red "Fletcher" style boat driving erratically and at speed, which he thought especially unusual due to the late hour. He saw the boat continuing to make manoeuvres at speed before disappearing.
Another witness who lives near Wandsworth Bridge, told police she was watching TV when she was disturbed by the noise made from a boat. When she looked out she saw a poorly lit boat travelling along the Thames which she thought unusual given the time.
She watched it travel along the centre of the river before veering towards the mooring. She believed the boat was heading for shore, as the engine did not sound right. She witnessed it heading towards the mooring wall and then briefly lost sight before hearing a loud crash. After a few seconds she heard a man shouting for help and called police.
At about 11:43pm the speedboat collided with a submerged or partially submerged object in the water, believed to be a tree trunk or piece of timber, which the court were told was not uncommon in the Thames.
Due to the boat's speed and its position in the water, (believed to be caused by taking last minute evasive action to avoid the object) it capsized a few hundred yards before Wandsworth Bridge.
Eye witnesses who were walking along the river path and also residents from flats on both side of the river reported hearing a man calling for help from the river. Shepherd was eventually located clinging to the upturned speedboat which was drifting towards Wandsworth Bridge in a strong current. Hewas removed from the water just to the east of Wandsworth Bridge, by the Police Marine Unit and informed police and the RNLI that his girlfriend had been with him and was still unrecovered.
The speedboat, "Arrowflyte", was partially submerged just under Wandsworth Bridge and was recovered to Putney Pier. The river search continued by marine units from the police, the RNLI, London Fire Brigade, local officers on the river banks and the Police Helicopter. The helicopter crew later reported they had spotted a possible body in the water West of Wandsworth Bridge and directed marine units to the location.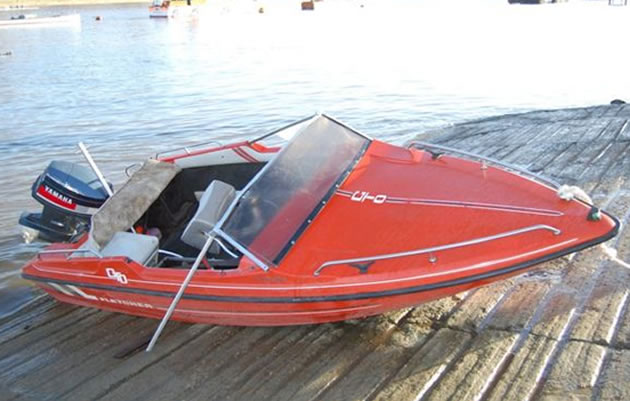 Charli was recovered from the water at 12.10am by the Marine Units and they tried to revive her with CPR whilst they took her to shore. Once there paramedics took over and continued CPR and all available efforts to try to resuscitate her. Despite the efforts of the emergency services Miss Brown never regained consciousness. She was pronounced dead at St Georges Hospital at 1.55 am on 9 December 2015.
A post-mortem examination was conducted on 10 December which listed a number of possible causes of death following immersion in cold water including asphyxia due to airway obstruction, electrolyte imbalance following aspiration of large volumes of water, hypothermia and shock.
Shepherd had been recovered from the water suffering hypothermia. Responding emergency services described him in their statements as smelling strongly of alcohol and having erratic behaviour consistent with being drunk. He was also suffering from shock and hypothermia following the crash and exposure to the freezing river. He was taken to hospital for medical attention. He was initially treated as a significant witness rather than a suspect and for these reasons it was not until 14 hours after the incident that a blood sample was taken and this showed zero alcohol.
He was interviewed the day after the incident at Wandsworth police station on 9 December. Within his interview Shepherd said, on his way back from Central London he chose a straight area of the river to allow Charli to drive the boat and "have a good run".
He recalled that he and Charli had stopped and swapped controls of the boat and he then hung on to the side rail of the boat and didn't remember anything else until waking up in hospital. He clarified that he had previously let others drive the boat before and had let at least five of his previous dates take control of the boat. None of the previous dates were offered life jackets.
Initially the incident was investigated by Wandsworth CID and a file was submitted to the Crown Prosecution in July 2015. Due to the complexities of the case a decision was made to instruct Counsel to complete an in depth review of the evidence. In August 2015 the report from Counsel, reviewed the evidence to date outlined a list of actions that would be required in order to establish whether any criminal charges were applicable. A decision was made to pass the investigation the case to the Homicide and Serious Crime Command on 2 September 2016. As a result of the investigation a number of expert witnesses were approached.
A company which specialises in the investigation of marine accidents, were approached and consulted about what expert evidence they could provide to the investigation. They were instructed to complete an inspection of the speedboat and scene in order to establish how the incident was likely to have happened, the likely speed and direction of the vessel and what was the likely point of impact.
They were also asked to provide expert opinion on to what extent the; the conditions and defects of the vessel, weather and river conditions, alcohol consumption and any other relevant factors contributed to the incident. It was found that the boat had a number of serious defects, that Shepherd had been stopped for speeding on the river before and his phone was recovered on which there were short video clips showing him driving at speed past the Houses of Parliament and Ms Brown commenting on how fast they were going.
Following the extensive enquires and reviewing the expert evidence Shepherd was charged with manslaughter on Tuesday, 19 September 2017.
July 27, 2018