Five women from Wandsworth have successfully climbed Mount Kilimanjaro. Lucinda, Alice, Shona, Philippa and Anne climbed beside one of the wounded soldiers, Captain Ibrar Ali, MC, witnessing first-hand how even the most horrific injuries can be overcome.
Captain Ibrar Ali was badly injured while serving in the Yorkshire Regiment in 2007 when his patrol was hit by a roadside bomb resulting in him losing his right arm. Just 18 months after the attack he was back on tour with the Army in Iraq and last year spent six months in Afghanistan.
The Kilimanjaro women were also joined by Ashley Fraser, Richard Petty and Andrew Dangerfield along with Captain Ali, and raised over £16,000 between them as well as awareness of the work that Walking with the Wounded do in supporting injured servicemen.
Captain Ibrar Ali said: "Having begun my training for the Virgin Money South Pole Allied Challenge some time ago, this trip to the summit of Mount Kilimanjaro was a great way to test myself physically and mentally. It also served as a fantastic opportunity to meet some wonderful people who have been fundraising hard for WWTW. A big thank you to Private Expeditions for making this trip happen. The Kili trip was fantastic and was made better by the great group of people that were there. I now have 5 weeks before setting off for the South Pole (with Prince Harry) and will now really up my training in order to be a fit and strong member of Team Glenfiddich".
Lucinda said: "We all greatly admire Walking with the Wounded, which is why we signed up for the challenge. I initially spotted the event on Facebook and posted to see if anyone else fancied doing it and was overwhelmed when the other girls all responded immediately with a yes.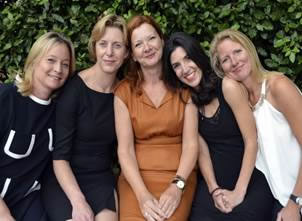 "We could have spent this summer taking a little rest from our fundraising efforts for Walking With The Wounded having been involved with our sons' school fundraising which already exceeded £27,500, earning visits from Ed Parker and Jaco van Gass from the North Pole team. Anne also ran the London Marathon this year raising over £7,500!"
Andrew Cook, Walking With The Wounded's Head of Fundraising, said: "We are so thrilled that our inaugural trek with Private Expeditions has been such a huge success. Having set out with the aim of providing a unique experience for our supporters by offering them the opportunity for a rare insight into our wounded soldiers and how they overcome their own adversity, we couldn't have been more delighted with the results. Not only did the team summit Kilimanjaro successfully together, they did it safely as a team and raised in the process over £16,000 for our wounded servicemen and women. Big thanks to all the team at Private Expeditions for their professional expertise and friendly approach and we look forward to putting on more events of this type in the future."
The Walking With The Wounded challenge to climb Kilimanjaro was a nine day trip with seven days of climbing. They climbed via the Machame route, which offers excellent acclimatisation and as a result has the highest success rate. For more info on this and any charity challenge contact Private Expeditions, www.privateexpeditions.com/kilimanjaro the high altitude trekking experts who specialise in taking clients safely to the world's iconic trekking destinations: Kilimanjaro; Everest base camp; and Machu Picchu.