Calls on government and freeholders to shoulder the cost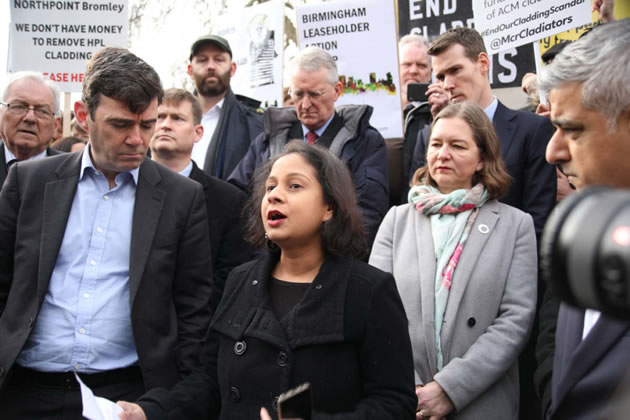 Ms Anderson (grey coat) with Sadiq Khan & Andy Burnham cladding demo earlier this year
The Labour MP for Putney, Fleur Anderson, has called upon Government and freeholders to take responsibility for removing unsafe cladding
She made the call after her constituents wrote to her to say the costs to leaseholders of making buildings safe could be up to £50,000 for each flat.
Ms Anderson said, "Action should have been taken straight after Grenfell to make buildings safe, but instead people in at least ten large blocks of flats in Putney are facing possible danger and rising costs. Leaseholders from all of these blocks have written to me after unsafe combustible cladding was discovered in their block following an External Wall Survey (EWS) inspection.
"Leaseholders affected by this scandal have my full support and solidarity. Their treatment has been a disgrace. I have met with residents and raised this in the House of Commons alongside MPs from across the country. I have also written to Freeholders and Property Managers urging them to not pass costs onto leaseholders and one is taking responsibility and doing the right thing. But until the law changes and the Government acts, most have made it clear to me they will not take responsibility."
"The Housing Minister has said that it is his 'intention' that leaseholders should not have to foot the bill. However as always, the Government's words have not been matched by their actions. The Building Safety Fund is simply not going to be enough, and despite the rhetoric they are standing idly by and doing nothing to protect leaseholders."
Many of these leaseholders have been informed by the Freeholder that, unless funding can be secured from the Government's Building Safety Fund, the costs of remediation and other fire safety works will fall to them. Quotes are vastly different and actual costs are not confirmed and this is causing more worry with figures of £20,000 - £50,000 being used for some developments.
However, according to senior civil servants, the Building Safety Fund will only cover one third of blocks across the country that need remediation.
This has left hundreds of leaseholders in Putney facing astronomical costs and unable to sell or re-mortgage their flats – with many lenders refusing to lend on their properties until the cladding is replaced.
More than 500,000 leaseholders are estimated to be living in towers wrapped in combustible cladding in the UK. A recent study by the UK Cladding Action Group found that nine out of ten leaseholders affected have had their mental health deteriorate as a result, and nearly a quarter have had suicidal thoughts.
One leaseholder in an affected block in Wandsworth, Hardwicks Square, said, "As every day, week, or month goes by, our financial liability and stability becomes ever more disturbing and deeply troubling. When will this end?"
Another resident from the SWISH Development in Putney, said: "We bought our flat in 2004 in good faith believing it to be a safe home and the fact that it is now considered to have these problems is not of our making. We simply cannot afford to pay a sum of this size on top of the existing service charge we have to pay each month."
Later this year, the Building Safety Bill is due to appear before Parliament, however in its current form the Bill does not protect leaseholders from facing costs related to fire safety works. Ms Anderson has submitted evidence to the Housing, Communities and Local Government Select Committee pre-legislative scrutiny consultation on the Draft Bill, which you can read here.
If you are a resident in a block that has affected by the cladding scandal you can email the editor at editor@putneysw15.com and contact Ms Anderson on fleur.anderson.mp@parliament.uk.

October 8, 2020