Heathrow residents take the protest to Birmingham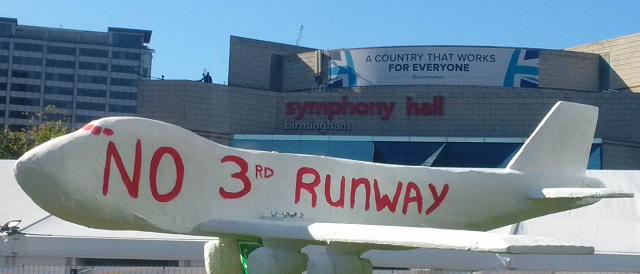 A group of residents from around Heathrow, including from Prime Minister Theresa May's constituency, visited the Conservative Party Conference at the ICC in Birmingham on Wednesday. The purpose of the visit was to speak to delegates attending the conference on the day of Prime Minister Theresa May's speech to remind them why a third runway is not the best deal for Britain. As well as handing out information to delegates, there was a papier-mâché aeroplane bearing the message "No 3rd Runway" which delegates could see from a distance.
In the speech, Prime Minister Theresa May confirmed the government "will shortly take a decision on airport capacity" – a decision that has been touted for 18 October.
Maidenhead resident Paul Groves said: "As a constituent of the Prime Minister, I came to Birmingham remind members of the Conservative Party the promise she made to voters like me on Heathrow, who despair at the thought of 250,000 extra flights per year across the constituency.
Harmondsworth resident Neil Keveren said: "We're here in Birmingham to remind the party of the Prime Minister that a third runway is not a good deal for Britain. Residents are united against expansion and will not be forced out of their homes by the Government"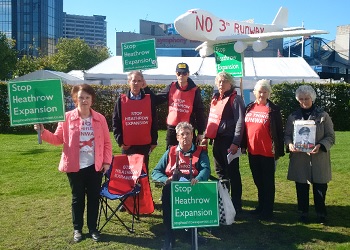 6 October 2016