Heathrow Expansion fares ill in all party manifestos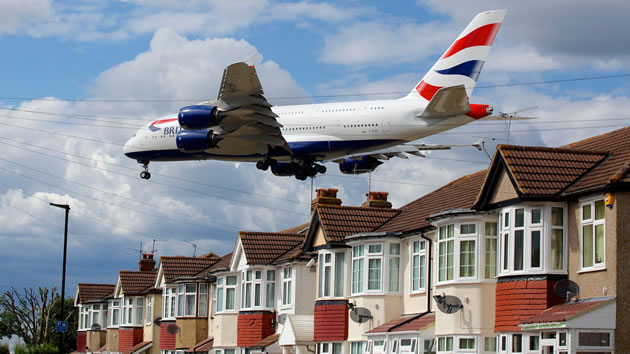 Plane landing at Heathrow. Picture: Ian Wylie
A campaign group is to consult its lawyers over the firm statement in the Conservative election manifesto, published yesterday, that it intends to expand Heathrow. HACAN, the residents' group which opposes expansion, claims that the current consultation - which still has a week to run - was invalidated with yesterday's pledge that the Conservatives would proceed with a third runway.
The manifesto said, "We are investing to reduce travel time and cost, increase capacity and attract investment here in the UK. We will continue our programme of strategic national investments, including High Speed 2, Northern Powerhouse Rail and the expansion of Heathrow Airport - and we will ensure that these great projects do as much as possible to develop the skies and careers of British workers."
HACAN chair John Stewart said, "The manifesto announcement seems to have pre-empted the result of the consultation which doesn't close until next Thursday. We believe this may be illegal and are consulting with lawyers. If the Government has already made up its mind, the consultation has become a worthless charade"
In October last year Theresa May announced that a third runway at Heathrow was the Government's preferred option for expansion. A consultation on the third runway was released earlier this year in the form of a National Policy Statement. Later this year the National Policy Statement is required to be considered by the Transport Select Committee before being put to a vote in Parliament. Only if Parliament backs it can it become Government policy.
Both Labour and the Liberal Democrats published their manifestos earlier this week, with Labour's stopping short of endorsing Heathrow, simply suggesting that the party "recognised the need for additional capacity in the south east" and that the party would "guarantee that any airport expansion "adheres" to four tests set out by the party (2). The Liberal Democrats provided an explicit commitment not to support a 3rd runway.
Robert Barnstone, Coordinator of the No Third Runway Coalition, said: "Heathrow expansion is a toxic issue, in particular in relation to air quality and noise pollution. The lack of detail in the manifesto is a concern for both the local communities affected and for the taxpayers who are being held liable for an unspecified contribution of public capital. The proposals for delivering a third runway are simply not credible."


May 19, 2017