All five claimants will now get full hearing next March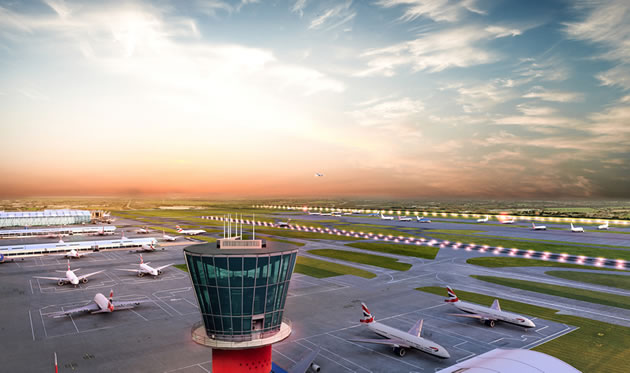 CGI image of how extended airport might look
The Courts of Justice ruled this Thursday that all six legal challenges brought against the Parliament's decision in June to back a third runway at Heathrow can go to a full hearing.
The hearing will be over two weeks in March in front of two judges. Today's judge is looking to see what elements of the cases he can combine to avoid duplication.
HACAN chair John Stewart said, "This is a blow to the Government. At best it probably thought it would just need to defend two or three of the challenges. Now it faces all six.
The five parties are:
A consortium of local authorities (Hillingdon, Hammersmith & Fulham, Richmond, Wandsworth and Windsor & Maidenhead), Greenpeace and the Mayor of London, Sadiq Khan.
Heathrow Hub Limited (promoters of a rival scheme to expand Heathrow
Friends of the Earth
Plan B, an environmental justice organisation
Neil Spurrier – a resident of Twickenham, Middlesex
Due to the size of the cases, amount of paperwork involved, and the public interest in the case, the hearings in March will be heard by two judges and will be heard in the largest courtroom at the Royal Courts of Justice. It was also noted that a separate courtroom may have to be used as overspill, with a TV link to the main proceedings, also due to levels of interest.

A spokesperson for Wandsworth Council told this website: "We are pleased that the challenge is now underway and this is simply the first step in what promises to be a lengthy legal process."
Paul McGuinness, Chair of the No 3rd Runway Coalition, said, "These legal challenges are of the Government's own making.
"It is not insignificant that the judge has permitted all five claimants to proceed to judicial review. In addition to the claim from several councils and the London Mayor, the four other claims raise some serious points of law.
"If the government had not ignored available evidence in their blinkered enthusiasm to expand this already highly disruptive airport, parliament would not have supported the proposal, and these actions would not have been necessary."
John McDonnell MP, who addressed opponents of Heathrow expansion, gathered in solidarity outside the High Court, said, "The third runway project is increasingly recognised as a non-runner. The Government needs to listen this time and time again and stop wasting taxpayers' money in another failing Grayling project.
"A Government that prevents Heathrow going ahead will send a message that we are serious about climate change, serious about creating a zero-carbon economy and the development of our transport network will not be concentrated in one part of the country."
A spokesman for Back Heathrow said, "Local people and the democratic process have spoken and we're very confident that this will be backed up by the courts formally through this judicial process. After decades of delay this project looks well on course to deliver for local communities and our country. Not before time".

Will Rundle, head of legal at Friends of the Earth, said:
"The court has made it very clear that the government must defend itself at a full trial next Spring, and we are looking forward to the next step in the legal fight against the climate-damaging project that is Heathrow's third runway. We think the government's decision to go ahead with the project failed to consider current climate policy, including The Climate Change Act targets. Nor did it factor in the implications of the Paris Agreement."


October 5, 2018