Government fails to rule out further expansion in Aviation Strategy Green Paper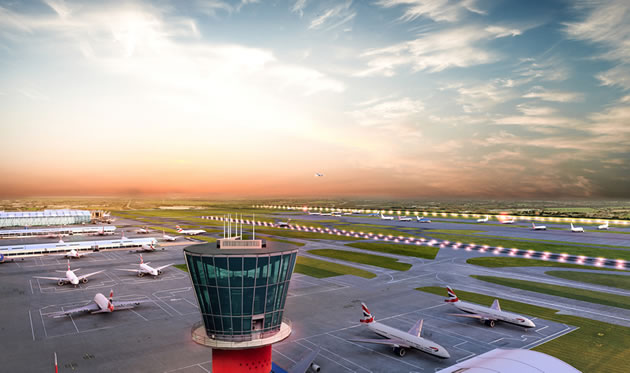 CGI image of how extended airport might look
The Government has refused to rule out a fourth runway for Heathrow Airport despite previous claims that a third runway would not lead to a fourth.
In its Aviation Strategy Green Paper, just published, the Government outlined a new decision-making framework for a new, further runway in addition to its plans for a third runway at Heathrow, by 2050.
The new decision-making framework would either be decided upon through a similar approach to the Airports Commission, a site-specific approach (as per the 2003 Aviation White Paper), or a National Policy Statement, as per the plans for a 3rd Heathrow runway. Any of these approaches could recommend expansion at Heathrow once again.
In the strategy the government say that "leaving it to industry to determine whether and when to bring forward applications." In the absence of any discussion ruling out a fourth runway in this strategy and any legally binding commitments in the National Policy Statement published in June 2018, there does in fact appear to be plenty of room for the policy to be introduced at a later date.
Heathrow Airport conclude that they "would accept a commitment from government ruling out a fourth runway at Heathrow, but that is a matter of government's policy to enforce".
Campaigners in areas around Heathrow reacted with fury to the news.
Jackie Clark-Basten, Chair of Stop Heathrow Expansion, said, "Although the government will deny it is planning for a fourth runway, the very fact this framework is even being put forward is just about the worst Christmas present we could have expected. There needs to be legislation put forward ruling out a fourth runway right away."
Geraldine Nicholson, resident of nearby West Drayton, a possible site for a fourth runway, said, "Government is clearly leaving the door open for a 4th runway, by "leaving it to industry to determine whether and when to bring forward applications." There will be a furious backlash from the hundreds of thousands of residents who are currently disturbed by the operations of Heathrow. This will now plunge thousands of residents, outside of the Heathrow villages, like me, into years of uncertainty. If the Government thought it was difficult to get a 3rd runway, then they should fear what will happen if a 4th ever gets promoted!"
December 20, 2018