Decorated planes and vehicles with poppies
Passengers and employees at Heathrow's Terminal 5 have raised £54,000 for London Poppy Day in just 4 hours, in the largest collection ever achieved at Heathrow. 120 members of the Armed Forces, Pipers and Scottish dancers descended on both arrivals and departures, welcoming passengers and driving donations.
The UK's hub also pledged support for The Royal British Legion by decorating 200 vehicles with poppies, including safety vehicles, tugs and fire engines, as well as donating £1 for every car parking booking made from London Poppy day (7 th) to Armistice Day (11 th). Heathrow Express offered free travel to the military on both days.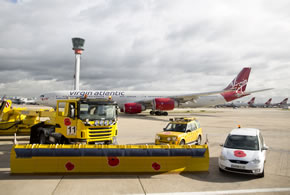 Heathrow has had a long association with the military, beginning during World War II when the government requisitioned land in and around the ancient agricultural village of Heath Row as a base for long-range troop-carrying aircraft bound for the Far East. Many employees have also served with the Armed Forces.
Paul Farmer, a Security Duty Manager who previously served as an RAF Policeman, said: "I am delighted to support The Royal British Legion's Poppy Appeal. Serving in the Armed Forces gave me many of the skills I still use at Heathrow today and I am so grateful for their help when I made the transition into work."
Terminal 5 Operations Director, Susan Goldsmith said:"We are delighted to be supporting The Royal British Legion with their poppy appeal campaign. Many of our passengers and employees have served in countries across the globe and we know this is a cause that is very close to their hearts."
Every poppy helps raise the £1.6 million spent by the Legion each week to deliver practical help and advice to the Armed Forced community. The Legion provides wide ranging support including crisis grants, family breaks, benefits and money advice and at times sadly, inquest advice.
November 4, 2013