'Venus' will soon be in service at a riverboat station near you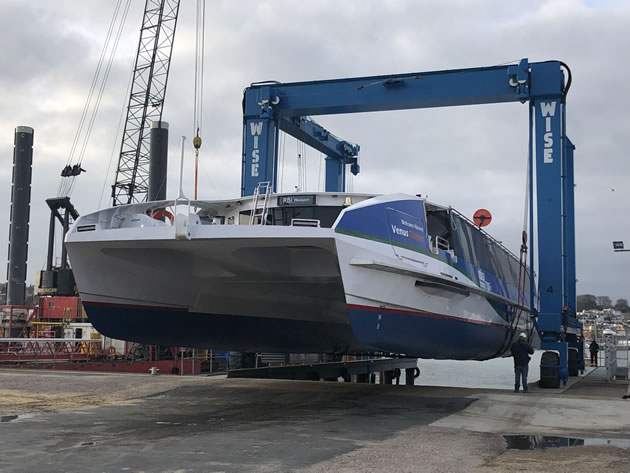 MBNA Thames Clippers' Venus Clipper has been lowered into the water for the first time at Wight Shipyward Co in East Cowes, where she will now undergo a series of system tests and sea trials before making her way by sea from the Isle of Wight to the River Thames in the coming weeks.

Once in London 'Venus' will become the 19th vessel in the company's fleet of high speed catamarans serving the capital's commuters and visitors as MBNA Thames Clippers celebrates its 20th anniversary.
The addition of Venus Clipper represents a £3.8 million investment in MBNA Thames Clippers and is expected to enable London's river bus operator carry an additional 300,000 passengers every year.
Altogether River Bus services cover around 28 kilometres of the Thames between Putney and Woolwich Arsenal.
Contactless payment has been in operation on the service since 2016 and is charged the same adult rate pay as you go fare as using an Oyster card. Users are charged for their journey based on the three river fare zones - West, Central and East.
TfL says the introduction of contactless payments was just one of a number of developments aimed at encouraging better use of the river and increasing passenger journeys along the Thames to a potential 12 million a year by 2020.


February 18, 2019