Driver had to be rescued after vehicle caught fire in collision
South Western Railway services were severely disrupted this Wednesday morning (4 October) after a lorry collided with a bridge in Isleworth.
The line between Hounslow and Isleworth was blocked and there was no service at local stations including Brentford and Chiswick. Disruption was originally expected to continue well into the afternoon but a full service was restored early in the afternoon.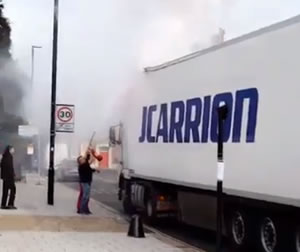 Members of the public tackle the fire
The lorry caught fire after hitting the railway bridge in the middle of the morning. The fire brigade attended but it is believed that prior to their arrival members of the public put out the fire with fire extinguishers and rescued the driver from his cab.
Warning: some readers may find the language used in the video below offensive
Live Updates on South Western Rail Services
October 4, 2017